Clean Air Logistics for London
Active Dates: July 2022 - June 2023
Number of Project Partners: 10
Lead Borough : City of Westminster
CRP Project Lead: Fiona Coull

Clean Air Logistics for London (CALL) is a £1 million Defra-funded project led by Westminster City Council in collaboration with 10 project partners. The project aims to move more freight into London via river rather than road, supported by zero emission delivery methods in Central London. CALL will build on the success of CRP's Clean Air Villages 4 programme.
The CALL project will expand river freight in London, reducing both congestion and pollution at the same time. A lack of light freight being moved by river has been highlighted and investment in infrastructure is required to increase the viability of this. CALL locations have been chosen to reflect GLA Air Quality Focus Areas and the importance of the River Thames for freight. The CALL project will support the delivery of Defra's Clean Air Strategy, Westminster City Council's Air Quality Action Plan (AQAP) and other's partners air quality objectives.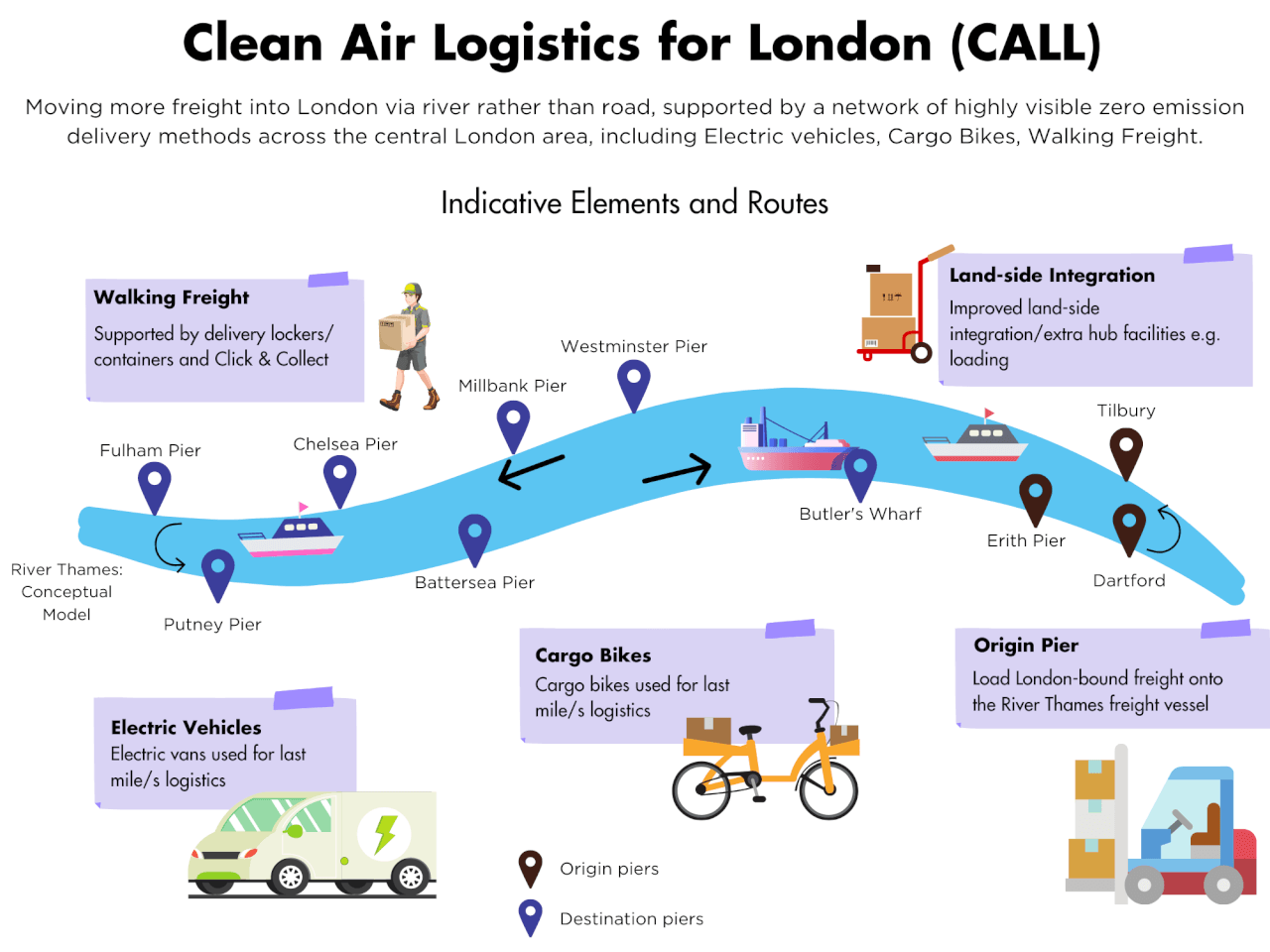 The main aims of CALL are to:
Modify existing river piers for freight
Provide Logistics micro hub spaces
Implement Electric Vehicles for ongoing trips away from the River Thames
Implement Cargo Bikes for ongoing trips
Implement Walking Freight for ongoing trips
Adjust the infrastructure linking piers with nearby roads (land-side integration)
Deliver more river trials (e.g. parcels, bulky goods (non-refrigerated food & drink))
CALL activities have been estimated to bring about annual emission savings of:
193.8g of NOx
6.8g of PM2.5 and 13.2g of PM10
84,407kg of CO2
"Cleaning up air quality is a key priority, and that presents major challenges for us in the heart of London. One thing I am determined to do is get more freight into central London on the river rather than by road, so I am particularly pleased Woods Quay in Westminster is playing such an active part in that. The more polluting freight vehicles we can take off the road, the better for our residents and their children who grow up breathing some of the dirtiest air in the country. I look forward to further initiatives with the Cross River Partnership." Councillor Adam Hug, Leader of Westminster City Council.