Clean Air Villages 3
Active Dates: April 2020 - March 2021
Number of Project Partners: 16
Lead Borough: City of Westminster
CRP Project Lead: Kate Fenton

Clean Air Villages 3 (CAV3) was a 1-year Defra funded project led by City of Westminster in collaboration with 12 London boroughs and 4 Business Improvement Districts, to improve the air quality in 16 different London 'villages', where both air pollution and population density levels are high.
CAV3 built on the successes of the award winning phases 1 and 2 of the project which focussed on interventions to support businesses. The CAV3 project expanded the scope of support to hospitals and wider communities in new 'villages' identified which were chosen to reflect the Greater London Authority's Air Quality Focus Areas.
CRP was extremely pleased that Defra supported a flexible approach to the CAV3 project, enabling project services to be quickly adapted to be of most use to businesses, communities and the health sector alike during the Covid-19 crisis.
The project partners for CAV3 were: London Boroughs of Camden, Hammersmith & Fulham, Haringey, Islington, Lambeth, Lewisham, Merton, Richmond upon Thames, Wandsworth, City of London Corporation, the Royal Borough of Kensington & Chelsea and Westminster City Council, as well as Business Improvement Districts (BIDs) angel.london, The Fitzrovia Partnership, Northbank BID and South Bank BID.
Lessons learnt in each of the business, community and hospital-led 'villages' were shared across these sectors, for maximum air quality impact achievements.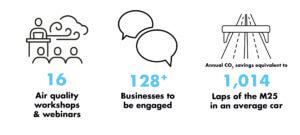 Use the map below to view locations of each of the 16 different 'villages':
Find out how you can contribute to improved air quality, reduced exposure to harmful pollutants, and good economic growth using the initiatives below.