Smarter Greener Logistics
Active Dates: July 2023 - December 2024
Number of Project Partners: 26
Lead Borough: Westminster City Council
CRP Project Lead: Fiona Coull
Smarter Greener Logistics (SGL) is a Defra-funded project led by Westminster City Council in collaboration with 26 project partners. The project aims to minimise the impact of freight on noise, air quality, traffic and pavement space in London by making improvements across 15 London boroughs and four London Business Improvement Districts (BIDs).  SGL will build on the success of CRP's Clean Air Logistics for London (CALL) .
SGL forms part of CRP's wider activities to encourage sustainable logistics across London. This includes the development of rail freight and walking freight initiatives, helping to improve London's air quality and supporting CRP's vision to make London a better place to live, work and visit.
Environment Minister, Rebecca Pow, Department for Environment, Food and Rural Affairs, said "We have made great strides in tackling air pollution at a national level since 2010, but we must do more to improve air quality and protect public health. From Tyneside to Cornwall, this funding will support a range of inspiring and innovative projects across the country – stepping up our monitoring of harmful pollutants, educating the public and boosting the use of green transport. This builds on our world-leading Environment Act commitments that will enhance our natural environment and safeguard public health for future generations." 
SGL focus areas and partners have been chosen to reflect GLA Air Quality Focus Areas (AQFAs) in central London, where Low Emission/Consolidated Logistics can make a difference.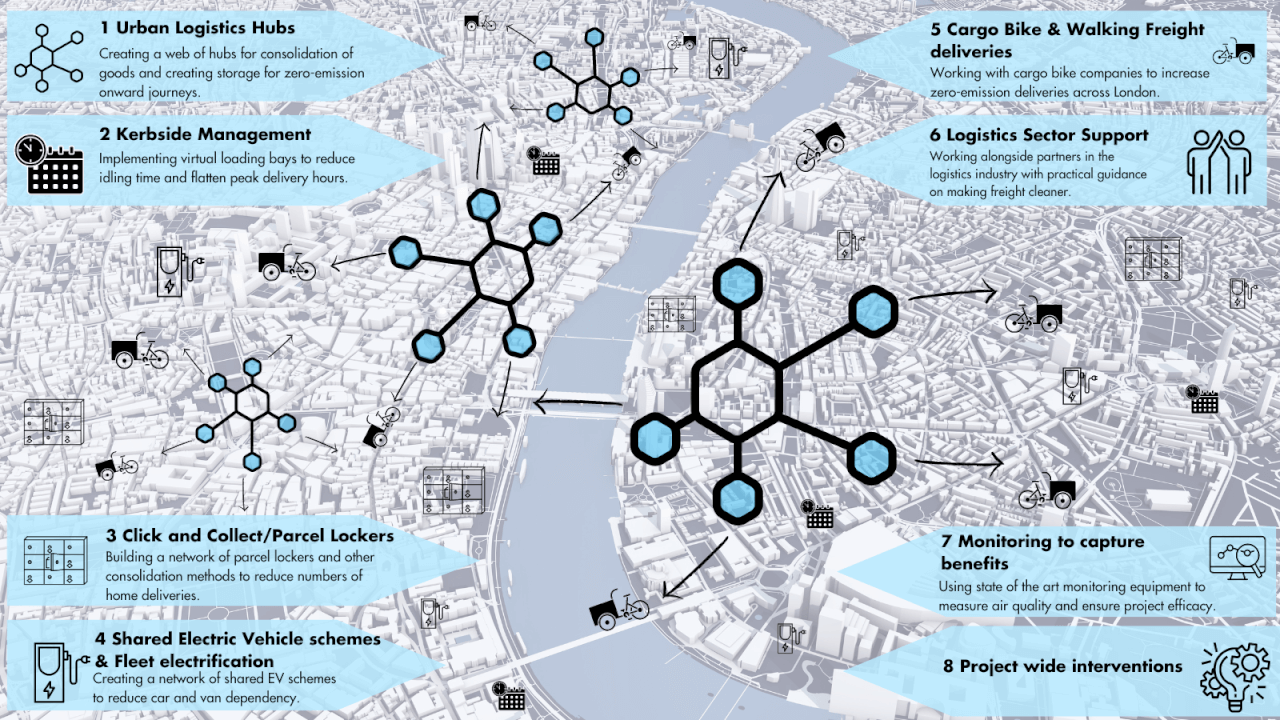 The main initiatives of SGL include:
Urban Logistics Hubs

 

Kerbside Management

 

Click and Collect/Parcel Lockers

 

Shared Electric Vehicle schemes & fleet electrification

 

Cargo Bike & Walking Freight deliveries

 

Logistics Sector Support

 

Monitoring to capture benefits

Project Wide Interventions

 
SGL Collaborating for Clean Air activities are expected to achieve the following emission reductions over the project duration (July 2023 – December 2024)*:
NOx – 11.96kg
PM2.5 – 0.36kg
PM10 – 0.62kg
CO2 – 5,731kg
In terms of a Return on Investment for Defra's £1 million grant award, achieving 11.96 kg of NOx reductions costs £83.61 per gram of NOx
*Calculation: ((£1,000,000/11.96= £83,612/kg)/1,000)=£83.61/g NOx