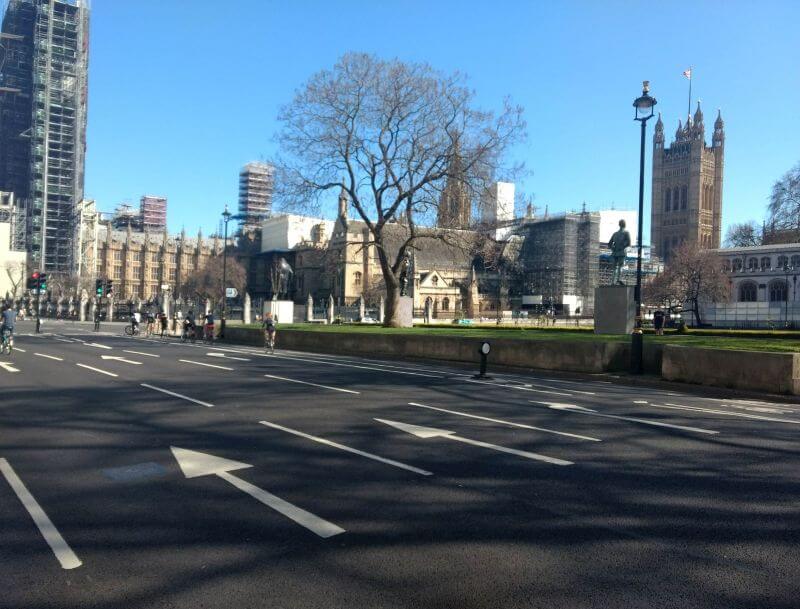 Out with the Old, In with the New
28th April 2020 / Posted by Susannah Wilks
As my octogenarian mother gets her annual Spring Cleaning truly underway, it really does herald the dawn of a new era for all of us, in every possible sense. This week the planet's population celebrated Earth Day, a timely reminder of the fragility in which all of us exist.
A key aspect of this fragility is the quality of the air that we breathe, every day, all day, and all night too. Although originally set up to build physical bridges, Cross River Partnership (CRP) has for more than a decade been delivering successful, collaborative projects to improve air quality in London and beyond.
Cast your minds back to CRP's air quality projects over the years – Freight Electric Vehicles in Urban Europe, Last Mile Logistics, Freight TAILS, Smart Electric Urban Logistics, West End Delivery and Servicing Plan, Healthy Greening, Clean Air Better Business, Healthy Streets Everyday, Clean Air Thames, Clean Air Villages – it's a long list, and the projects all have snappy titles!
And now in the midst of the global Covid Crisis, poor air quality means that communities living in that are  more likely to be affected by Covid-19, as they are more vulnerable to respiratory infections (Cambridge University study in the process of being peer-reviewed).
So CRP is already working with its public, private and community partners, supported by its funders, to rapidly flex its project delivery services to help meet some of the most urgent needs posed by Covid-19.
Think cargo bike deliveries of urgent pharmacy prescriptions to vulnerable residents' doorsteps. Think food bank parcels going direct to hungry families' homes.
Every little helps, and more so now than ever before, we really are Better Together.
Early in February 2020, the CRP Team of 12 met with the CRP Buddies, an informal network of mostly older, more experienced professionals, who worked for CRP at some point during its 25 years history.
Amongst other things, the combined group came up with four core CRP values, to underpin the flurry of project delivery activities that marks out CRP's busy days achieving outcomes with partner organisations.
The four CRP core values were decided to be: Collaboration, Innovation, Enterprise and Resilience. These were built into CRP's Business Planning process and document.
We had little idea of how much those values would be tested, and how much they have yet to be tested. But so far, they are standing us in very good stead.
CRP is fully committed to being as useful as it possibly can be to its Local Authority, Business Improvement District and Community Partners throughout this evolving Covid Crisis.
The pace at which these partners have responded to the Covid Crisis has been nothing short of astonishing.  And the pragmatic approach of CRP's key funders Defra, Innovate UK, the Greater London Authority and Transport for London, is only to be applauded.
As we enter our fifth week of lockdown, air quality in London and other global cities is better than in living memory.
Let's commit to keeping air pollution low, even as we emerge tentatively from lockdown at some point, or points, in the future.
Do I really need a car? Could I walk that trip? Why don't I continue to shop locally? Should my kids cycle to school (on their alternate school days)? What do I want from London's streets? How can our pleasant land be even greener?
And let's continue to collaborate. Politicians, scientists, technologists, economists, businesses, communities, optimists – all are needed. Even as we go with our mothers' and grandmothers' mantra: Out with the Old, In with the New.
Please get in touch if there is anything you think CRP may be able to help you with.  Even if we can't help ourselves, we will almost certainly know a man (or a woman!), who can! Susannah Wilks, CRP Director.