Town Centre Futures
Active Dates: January 2021 - March 2021
Project Partner: Centre for London
CRP Project Lead: Susannah Wilks

Read the final report HERE.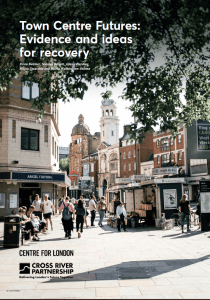 ---
The COVID-19 pandemic has presented a unique opportunity to create a greener, cleaner recovery, and enhance the roles of all of London's high streets moving forward. CRP's Town Centre Futures research project will provide practical recommendations for London's key players, inter-linking transport, economic, environmental, cultural and health aspects of London's future.
This research, delivered by Centre for London, focuses on 10 typologies across London – covering London's high streets through major centres, district centres and neighbourhood centres. London has created an enormous value based on collaboration and innovation, and this report aims to bring together partners from across London to emphasis and build on this.
Recommendations for how London's Centres can work together and transform to deliver futures that are successful economically, environmentally and socially will take the form of short, medium and long term. Recommendations will be designed within the spheres of influence of Local Authorities, Business Improvement Districts, landowners and other strategic agencies.
This study forms part of the Central London Sub-Regional Transport Partnership (CLSRTP) work programme. CLSRTP enables collaboration and information-sharing between partner boroughs on key sub-regional transport priorities. CLSRTP engages in a range of projects across the below to address these priorities which range from innovative pilots and trials, to forward-thinking research and strategy. Recent lockdowns have hugely impacted London's transport system and influenced a shift in the way Londoners use transport, impacting on transport patterns, provisions and associated economic activity. Recommendations are based on the impact COVID-19 has had on travel habits across the city.
CRP is committed to contributing to greener high streets, where Health, Environmental, Energy and Transport outcomes are maximised for all, in sustainable ways.
This study work took place between January and the end of March 2021. Read the final report HERE.