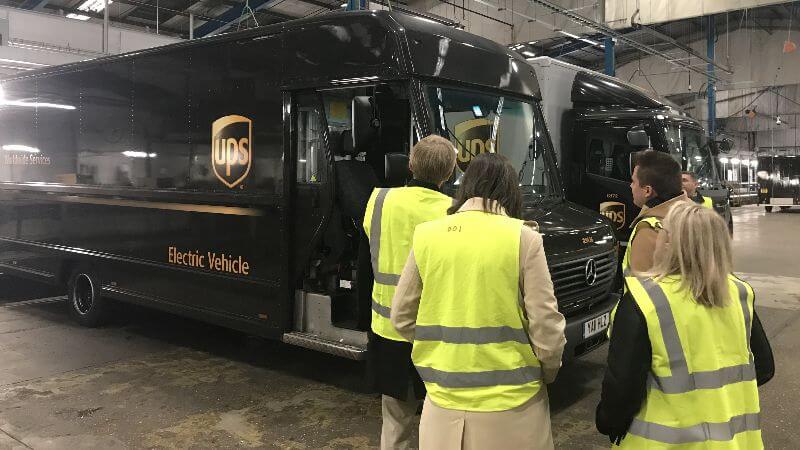 EFLES project: 2020 round Up
8th December 2020 / Posted by CRP Team
Back in April, CRP and partners UPS, Moixa and UK Power Networks Services, were awarded over £160,000 in funding from Innovate UK's Industrial Strategy Challenge Fund (prospering from the Energy Revolution) to deliver the Electric Vehicle Fleet-centred Local Energy System (EFLES) project. The project aims to reduce the costs of fleet electrification and support the wider transition to electric vehicles.
EFLES launched in May and, like many things this year, experienced some initial impacts from the pandemic, forcing the team to embrace home working and video meetings. In July, CRP released a summary postcard to outline the key challenges that EFLES aims to address. Throughout 2020, EFLES has continued to receive high profile coverage, including featuring in a future Net Zero podcast, and at the Cenex Low Carbon vehicle Event.
The rapid electrification of road transport expected over the next few decades could lead to a 30% increase in today's electricity consumption by 2050. EFLES will optimise transport and energy assets at UPS' Camden depot, taking 'smart charging' to the next level in order to reduce the costs of electrification. This has never been more important, with the Government announcing ambitious plans, as part of its 10 Point Plan, to accelerate the shift to zero emission vehicles, including ending the sales of new petrol and diesel cars and vans by 2030.
In 2021, CRP will be further developing the EFLES webpage to provide more engaging and interactive insight into this innovative project. We are also looking forward to the UPS site receiving new purpose-built electric Arrival vehicles. Following the success of the SEUL project, CRP is delighted to continue to support UPS on their electrification journey, leading the way on sustainable urban logistics.
For more information, please contact CRP Technical Project Officer Abby McDougall.