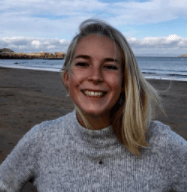 Zoe Greindl reflects on her Internship at CRP
30th March 2021 / Posted by CRP Team
Over the last few months, I have joined CRP every Thursday as part of my Masters in Climate Change at King's College London. Even remotely, I was warmly welcomed by the whole team and cannot believe how quickly the time has gone by!
I have had the opportunity to work across exciting projects; engaging with local businesses, analysing Vivacity monitoring data and using design tools to create communications content. I was also fortunate to attend a media and communications training by MediaFirst, a workshop on active travel by Groundwork London, CRP's Lunchtime Launches and meetings with the Central London Sub-Regional Transport Partnership and Clean Air Villages 3 partners.
I am extremely grateful to the whole CRP team for being so welcoming, kind and supportive throughout my internship. I have learnt so much during my short time at CRP and being part of such worthwhile
projects with a great team has been an invaluable experience for me!
On behalf of the whole CRP team, thank you Zoe for all your hard work at CRP!