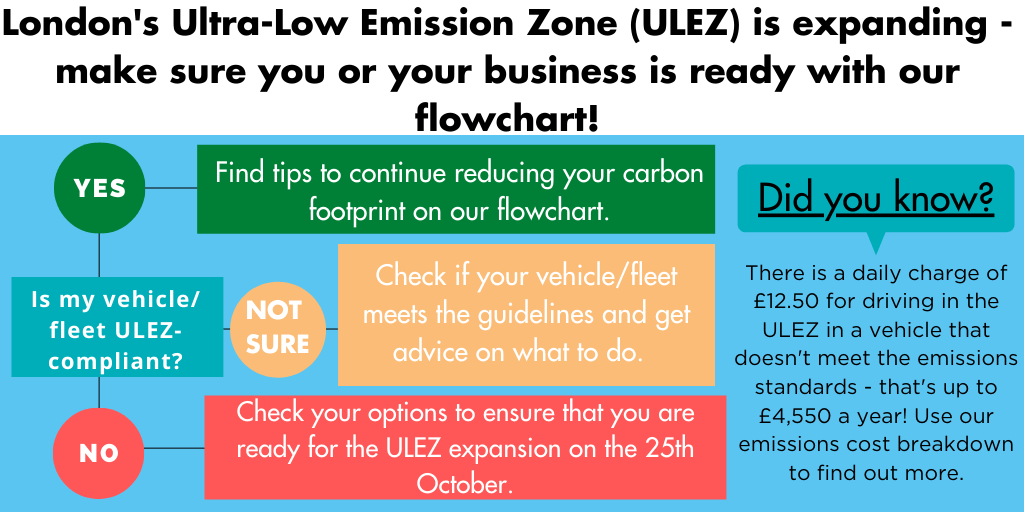 ULEZ has expanded
26th October 2021 / Posted by Ross Phillips
The Ultra-Low Emission Zone (ULEZ) expanded yesterday to create a single larger zone up to, but not including, the North Circular Road (A406) and South Circular Road (A205).
Cars, motorcycles, vans and other specialist vehicles (up to and including 3.5 tonnes), and minibuses (up to and including 5 tonnes) will either need to meet the ULEZ emissions standards, or pay a £12.50 daily charge when driving within the expanded ULEZ zone.
Through the Clean Air Villages 4 programme, CRP has produced some ULEZ expansion resources to support business and residents with the change. These focus on providing flow charts to mitigate the impact of the ULEZ for any non-compliant vehicles, whilst providing detailed financial costs of the impact for use throughout a week, month and year.
Listen to CRP Project Manager Ross Phillips speaking about the ULEZ expansion on the Evening Standard's podcast 'The Leader' here.
You can download the resources here:
If you have any questions about the ULEZ expansion resources, please contact CRP Communications Project Manager Rachael Aldridge.