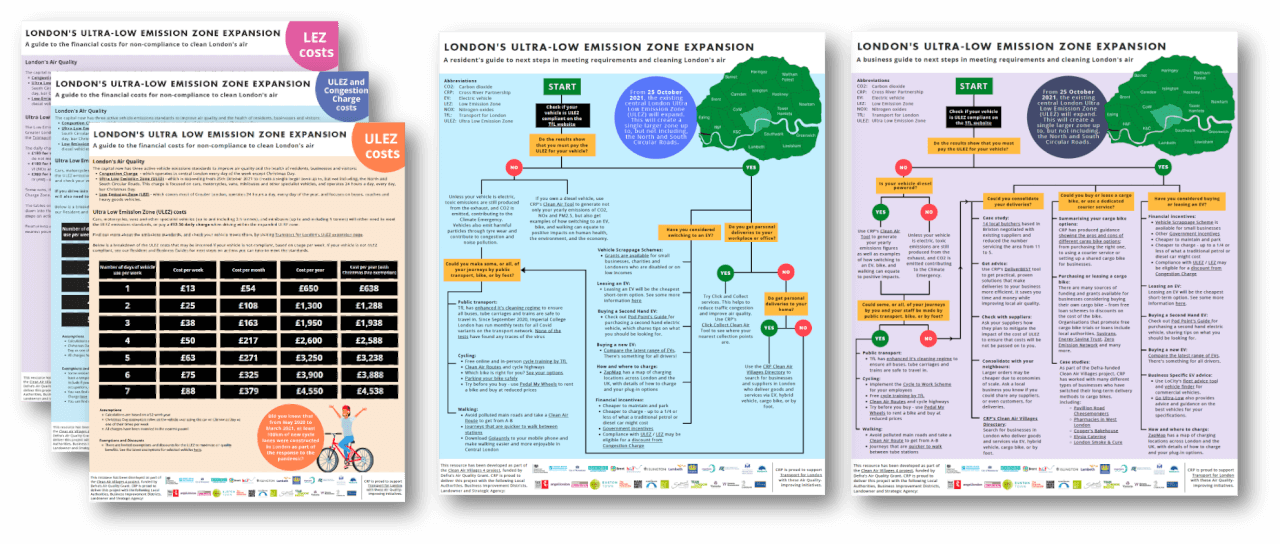 New ULEZ resources to help vehicle owners
17th August 2021 / Posted by Ross Phillips
As part of Clean Air Villages 4 project, CRP has created Ultra Low Emission Zone (ULEZ) guidance to aid resident and business vehicle owners on next steps to meet the emission standards (Euro 4 for petrol cars and Euro 6 for diesel cars). These standards are Euro 4 for petrol cars and Euro 6 for diesel cars.
From 25th October 2021, the existing ULEZ will expand, creating a single larger zone up to, but not including, the North and South Circular Roads. City Hall estimates that there are 100,000 cars and 35,000 vans in the expanded zone that do not meet the minimum emissions standards.
The new flow charts provide straightforward advice and signposting for electric vehicle leasing and buying options, funding opportunities and financial incentives, as well as CRP tools which can help in transitioning to cleaner modes of transport for personal and business journeys.
CRP have also created a simple breakdown of the financial costs associated with continuing to drive a vehicle that does not meet the ULEZ (or LEZ) standards.
We want to encourage all vehicle owners to meet the standards and where possible, switch to lower polluting methods, such as walking, cycling, cargo biking, scooting and using public transport, to improve London's toxic air quality, which is responsible for the deaths of over 4,000 Londoners in 2019 alone.
See all of the resources here:
For more information about the guidance resources, please contact CRP Project Officer Ross Phillips.