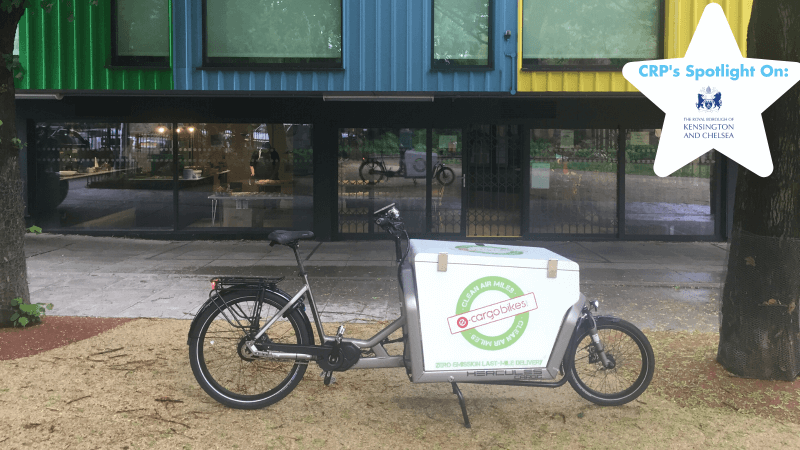 CRP's Spotlight On: Kensington and Chelsea Council
16th March 2021 / Posted by CRP Team
This week, we are showcasing the work of CRP partner Kensington and Chelsea Council. CRP spoke to Environmental Protection Specialist Louise Grimes about the Council's recent work on air quality.
Our priority at Kensington and Chelsea Council has been supporting residents and businesses during the coronavirus pandemic. Before the pandemic began, we were already offering zero-emissions deliveries on essential food and medicine to isolated people with the Defra-funded Clean Air Villages 2 cargo bike scheme. As the pandemic took hold, the scheme was a huge help in delivering food and medicines to people self-isolating or shielding in the area, offering deliveries from two pharmacies and community hub Bay20. We made 250 deliveries that would have otherwise been undertaken in a van or car in the first 10 weeks of the scheme! More pharmacies told us it would help them, so the Council funded the scheme directly for an extra 12 weeks, providing 1,300 zero emission deliveries to local residents.
We've now established a new Clean Air Village in the Cromwell Road area. Plans to engage businesses have been limited due lockdown but with the help of the CRP, the Council is working with nine businesses including the Natural History Museum, Science Museum and Victoria & Albert Museum. We'll be working with the museums to understand how they get their deliveries and services and see how we can help them to work together to consolidate, re-time or reduce the number of deliveries to help improve air quality.