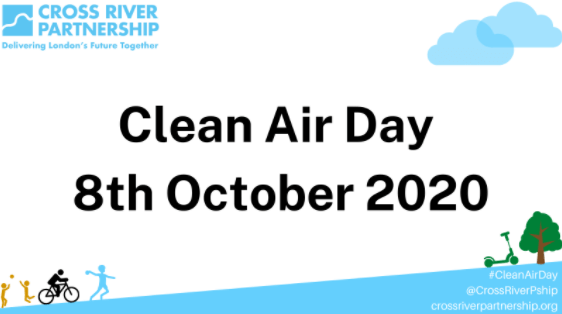 Clean Air Day 2020
6th October 2020 / Posted by Sefinat Otaru
It's National Clean Air Day on Thursday, 8 October 2020. There will be hundreds of events around the country, bringing together people from different backgrounds to raise awareness of indoor and outdoor air pollution, as well as what we can do to tackle it. Everyone is encouraged to try an activity that contributes to better air quality such as walking or cycling instead of driving, or temporarily converting a neighbourhood street to a play street where families can spend time together safely.
CRP is proud to have supported this annual campaign since it launched in 2017. Current CRP projects including Healthy Streets Everyday, Clean Air Villages 3, and Clean Air Thames are all aimed at improving the air we breathe here in London. For other activities, or ideas on what you do, visit the Clean Air Day website.
For more information, please contact CRP Project Manager Sefinat Otaru.