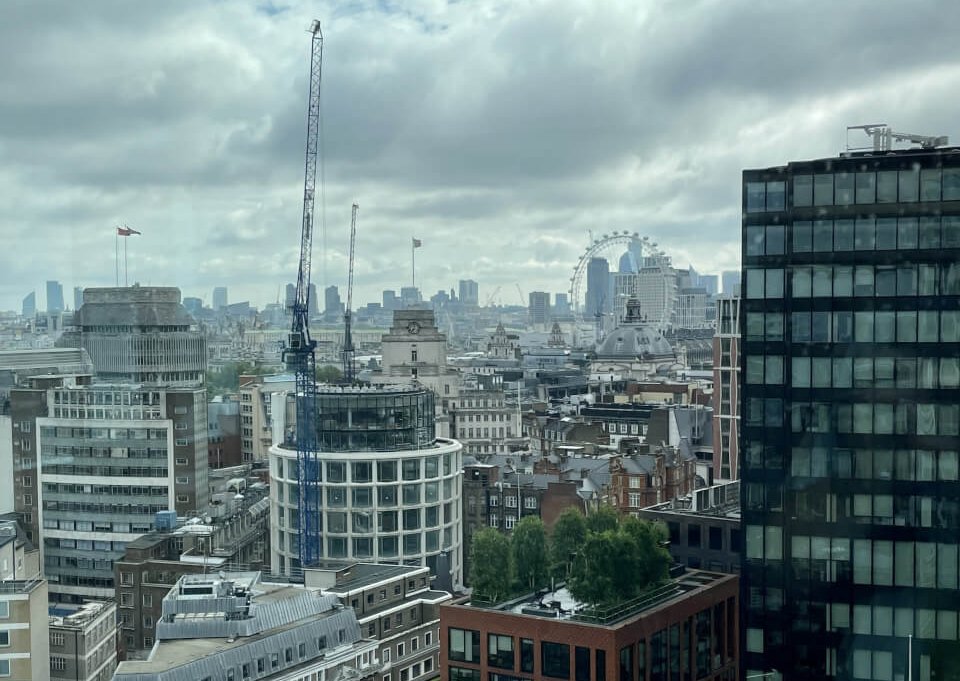 Charlie and Sobastian: First Month at CRP
18th July 2023 / Posted by CRP Team
I joined CRP at the end of June and have really enjoyed my first month! I've spent my time so far getting to know other members of the team, and familiarising myself with past and current projects. CRP is a great working environment – everyone has been very welcoming and supportive. I've also been enjoying the fantastic views of London from the office!
My first week included the CRP Summer Event at Somerset House, which was a great opportunity to meet collaborators and partners. Since then I've been working on Monitoring and Data Analysis, and helping wrap up some of pieces of work for CALL. I'm looking forward to working on delivery of the cargo bike and walking freight workstream as part of SGL, as well as supporting on data monitoring and evaluation and comms across all workstreams.
Previously I was working at the University of Westminster on a research project looking at working conditions and scaling up in London's cargo bike sector. I also studied for an MSc at UCL in Transport and City Planning, and wrote a dissertation looking at the governance, monitoring, and evaluation of London's e-scooter trial. I'm excited to be working on some similar topic areas at CRP, but with a greater focus on on-the-ground delivery.
CRP Project Officer Charlie Couve – charliecouve@crossriverpartnership.org
---
Joining CRP in the last week of June was very exciting to say the least! I was able to meet the team, collectively and individually, who are all amazing and have great enriching experiences within sustainability and are currently working across several exiting project streams.
My first day entailed witnessing the launch of the first urban e-walker, as part of the Defra-funded CALL programme in Fitzrovia and networking with stakeholders. Since then, I have also been working on Monitoring and Data Analysis, and supporting other pieces of work for our CALL programme. Additionally, I will be working on Click and Collect/Parcel Locker installations and Shared EV Schemes and Fleet Electrification and data monitoring as part of SGL.
My background is within education, sport, planning, retail, and behaviour change. Previously working in numerous schools, private organisations, and local authorities. I have an undergrad in Sport and Community Development and have recently become an alumni at the University of Westminster, following the completion of my MSc in Psychology in February 2023. The great benefit of joining CRP is being able to offer an array of experience across several fields and working across several workstreams to support a better London for tomorrow.
CRP Project Officer Sobastian Frazer – sobastianfrazer@crossriverpartnership.org