Waterloo Bus Garage Visit
21st November 2017 / Posted by CRP Team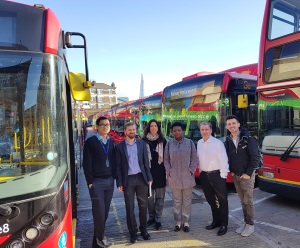 CRP's Deliver London Team toured Go-Ahead London's Waterloo Bus Garage recently to understand the requirements and operation of Europe's largest fleet of fully electric buses. 46 electric buses operate from the Waterloo site on the 507 and 521 routes in Central London. The buses have now been operating for two years with an excellent running record, and feature service innovations such as USB charging points and audio-visual digital information screens with route maps and stop announcements.
To charge all 46 buses, the local electricity grid infrastructure needed to be upgraded. This is a costly and disruptive exercise that not many operators, whether of buses or freight fleets, will be able to pursue. The CRP Smart Electric Urban Logistics project is exploring ways to use existing infrastructure more efficiently and thereby reduce the need for future physical infrastructure upgrades.
For more information please contact CRP's Tanja Dalle-Muenchmeyer.