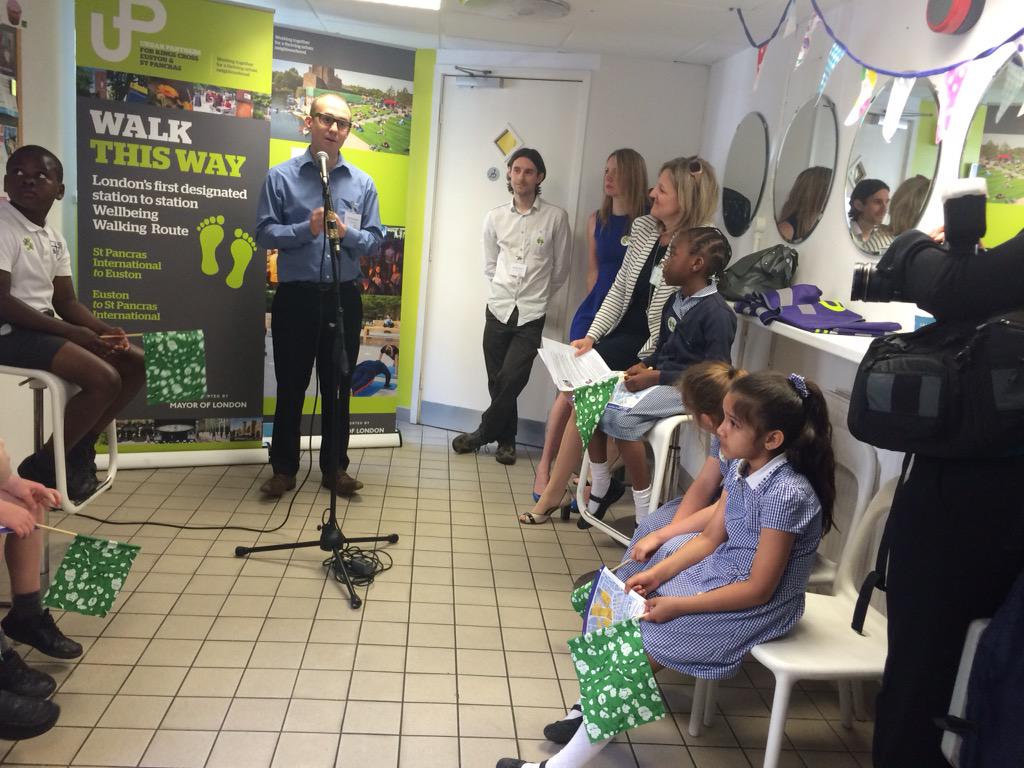 Urban Partners – Wellbeing Walk launch
28th July 2015 / Posted by CRP Team
London's first 'Wellbeing Walk' has launched to enhance the daily commute! Commuters walking between St Pancras International and Euston Station now have a healthier and more pleasant alternative route with the launch (Monday 6th July) of London's first designated station to station Wellbeing Walk.
The Wellbeing Walk, developed and launched by Urban Partners, is an innovation for the capital. Rather than pedestrians having to walk along the Euston Road, the Wellbeing Walk provides pedestrians with a less polluted and congested route between the two stations. The route, which features Eversholt Street, Phoenix Road and Brill Place, responds in particular to growing concern in the capital about air quality.  This project is directly supported through CRP's Clean Air Better Business programme.
Key features of the route include:
-Air quality along the new walking route improved by up to 65% compared to the more polluted Euston Road
-A healthier, less congested route for commuters, and convenient access to local independent traders in Somers Town
This initiative is developed by Urban Partners, a voluntary business partnership made up of key local businesses with the aim of shaping the area and supporting businesses and local communities.
Joyce Lorigan, Chair of Urban Partners, said:
"We all have deeply ingrained habits when it comes to our daily commute and we rarely stop to consider the alternatives. The Wellbeing Walk offers a healthier, less stressful route for the tens of thousands of people that travel between Euston, St Pancras International and King's Cross each day. This important initiative has been made possible thanks to an effective collaboration between businesses that make up the Urban Partners and the local community, which we hope will provide a model that can be replicated in other areas of London."
For further information contact Zoe Barwick.
Image: Councillor Phil Jones, Cabinet Member for Regeneration, Planning and Transport, from the London Borough of Camden