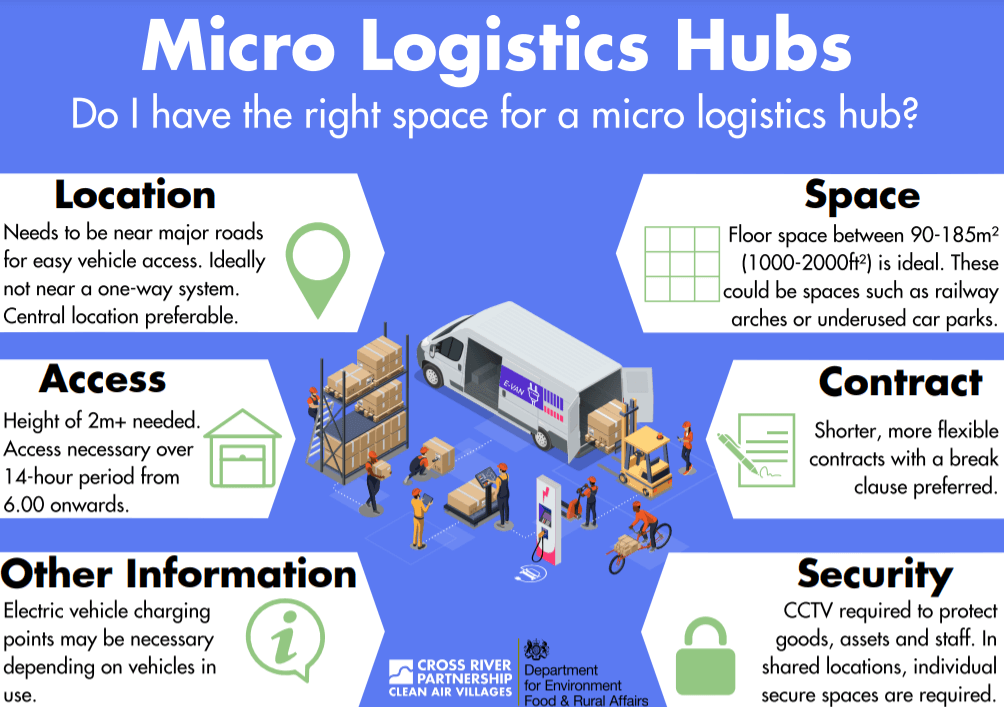 Urban and Micro Logistics Hubs
18th November 2021 / Posted by Ross Phillips
Through Cross River Partnership's Clean Air Villages 4 and CLSRTP programmes, CRP has produced an interactive map for Local Authorities and Landowners to advertise underutilised or unused sites and spaces in their local area. This map will support logistics operators to explore these locations as potential Urban Logistics Hubs and Micro Logistics Hubs, and landowners and local authorities to utilise these spaces fully.
Urban logistics hubs and micro logistics hubs play an important role in promoting sustainable and efficient freight activity in London. Goods are sent to spaces close to urban centres in areas with lots of people, and then distributed via low and zero-emission vehicles, like electric vehicles and cargo bikes, for the 'last mile' of the supply chain. This reduces delivery vehicle trips, pollution and congestion on our roads.
So, what may you be looking for? CRP has also created some easily digestible flyers to show what you might be looking for in your area if you are looking for urban logistics or micro logistics hubs. You can find these below:
If you think you may know of an unused or underutilised space near you, please get in touch with CRP Project Manager Ross Phillips.