Smart Electric Urban Logistics – Dissemination Event
14th January 2019 / Posted by CRP Team
On 6th February 2019, CRP and project partners UPS and UK Power Networks are inviting fleet managers to a SEUL project presentation and interactive workshop.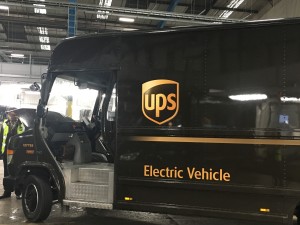 The Smart Electric Urban Logistics (SEUL) project is supporting the wider transition to electric vehicles for larger commercial fleets. The project is successfully trialling smart charging technology integrating energy storage and is also developing an innovative tool to better assess and use existing grid capacity.
Following short introductory presentations from CRP, UPS and UKPN, attendees will break into two workshop groups to discuss the issues in more detail. There will be plenty of opportunity to ask questions and consider how freight electrification and smart charging can benefit businesses.
The Smart Electric Urban Logistics project is part of the Low Emission Freight and Logistics Trials, funded by the Office for Low Emission Vehicles (OLEV) in partnership with Innovate UK. For more information, please see the project webpage here or contact CRP's Programme Manager Electric Freight Tanja Dalle-Muenchmeyer.