SEUL Smart Charging System Successfully Commissioned
25th April 2018 / Posted by CRP Team
Halfway through CRP's Smart Electric Urban Logistics (SEUL) project, the smart charging system has now been successfully commissioned and the first set of fully electric delivery vans has been deployed at UPS's Camden depot. For an overview of the project and the various elements that are being implemented throughout the 2-year project lifetime, please see the first of five project factsheets that is now available online as well as in print version.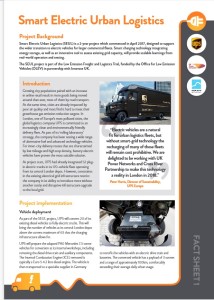 The successful commissioning of the smart charging system means that the amount of power going to the electric vans at the UPS depot can now be controlled depending on other demand on the local network. It might sound simple but this work is highly innovative and key to enable the widespread uptake of electric freight vehicles in London!
For more information, please register your interest on the project website or contact CRP's Programme Manager Electric Freight Tanja Dalle-Muenchmeyer.