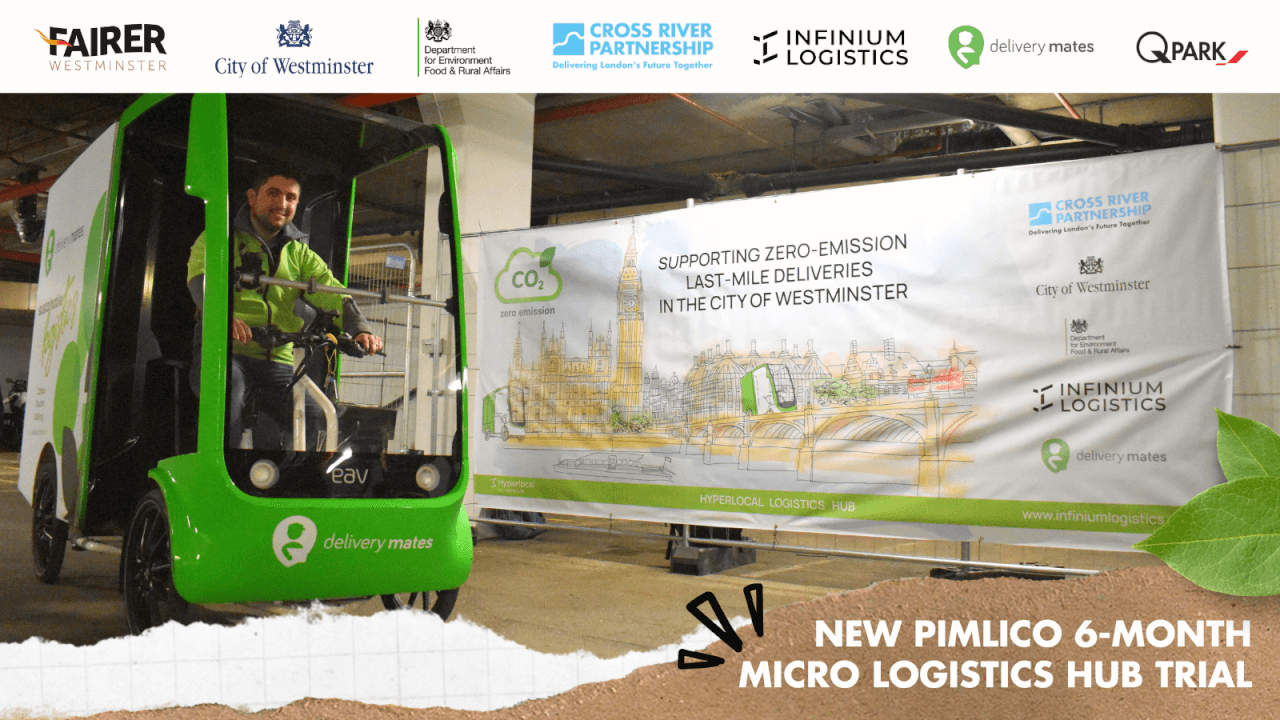 New Micro Logistics Hub in Pimlico
24th April 2023 / Posted by Isidora Rivera Vollmer
Westminster City Council and Cross River Partnership are excited to have launched a new six-month micro logistics hub trial in Pimlico on 17th April; supporting zero-emission last-mile deliveries in the City of Westminster!
This is a WCC and CRP-funded micro logistics hub trial, supported by Infinium Logistics, and carried out by zero-emission couriers Delivery Mates. Based in the Q-Park UK Pimlico parking facility, parcels are being delivered to the hub by electric delivery vehicles and distributed by electric cargo bikes in Westminster and the surrounding area. 
The micro logistics hub acts as a crucial step for consolidating deliveries, bulk-buying, and a place to sort deliveries, which can reduce the number of polluting vehicle trips and congestion. It is estimated that cargo e-bikes will deliver about 2,000 parcels a day from the hub to residents and businesses, thereby reducing congestion, pollution, and fatalities.
You can download the official press release here:
http://ow.ly/fKGR50NKoYA
The trial is a collaboration between Westminster City Council, Infinium Logistics, Delivery Mates, Q-Park UK, and Cross River Partnership and part of the Defra-funded Clean Air Logistics for London programme.
For more information, contact CRP Project Manager Isidora Rivera Vollmer isidorariveravollmer@crossriverpartnership.org.