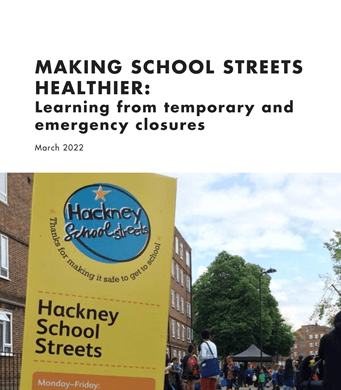 New Healthy Streets Everyday Report Launched
30th March 2022 / Posted by CRP Team
Last week saw the launch of new report 'Making School Streets Healthier: Learning from Temporary and Emergency Closures'. This report was written by University of Westminster's Active Travel Academy PhD researcher Asa Thomas and part-funded through CRP's Healthy Streets Everyday programme.
During the pandemic, many School Streets were brought in as temporary and emergency measures across London, to aid with social distancing, improving air quality and encouraging active travel to school.
This report focuses on two School Street schemes on Fairholt Road and Rendlesham Road in the London Borough of Hackney, to evaluate their impact and effectiveness. The research utilised Vivacity's monitoring tools to provide spatial, vehicular and time data to examine how the area was used and the changes over time as a result of the School Street.
The report finds that School Streets lead to significant reductions in traffic both during the closure time and over the whole day, a minimal change in pedestrian numbers and use of space and improvements in several Healthy Streets indicators. It also provided recommendations for enhancing the positive aspects of School Streets.
Read the full report and all of its recommendations here. For more information on the Healthy Streets Everyday programme, please contact CRP Project Manager Fiona Coull.