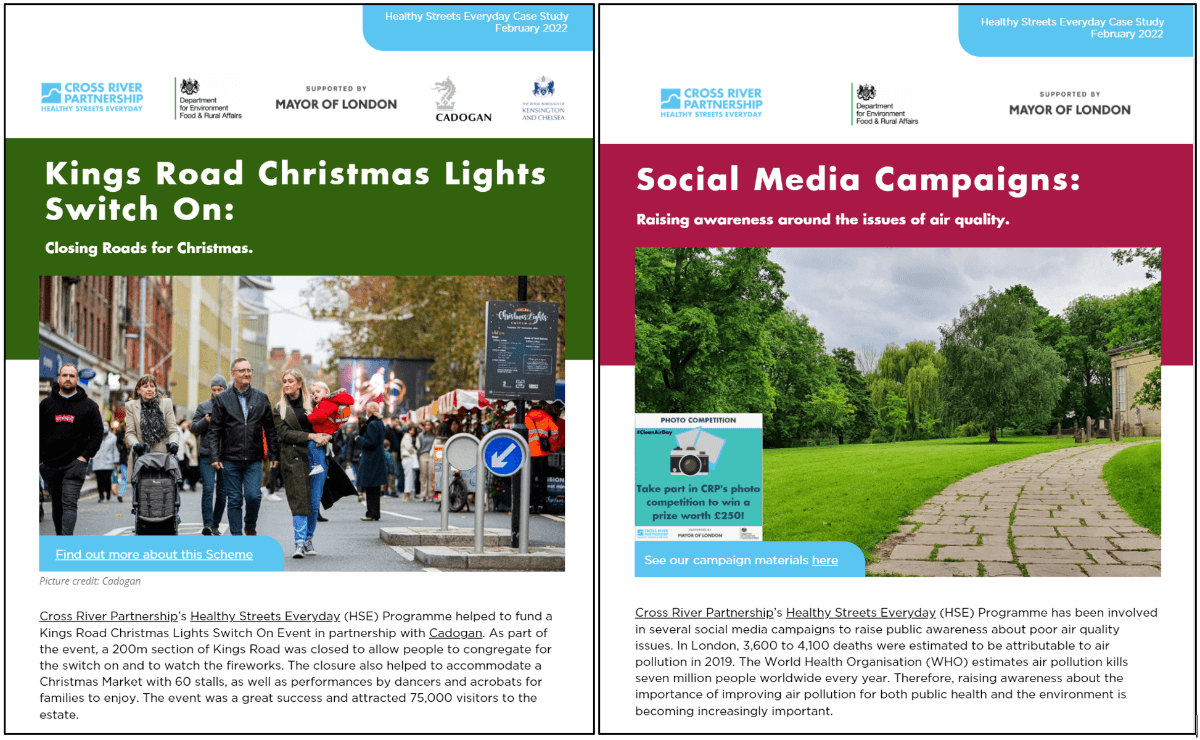 New Healthy Streets Everyday Case Studies
21st February 2022 / Posted by CRP Team
Take a look at the two new Healthy Streets Everyday case studies! The first highlights the success of the Kings Road Christmas Lights Closure, whilst the second discusses the benefits of social media campaigns.
Kings Road Christmas Lights Switch On 
The HSE Programme helped to fund a Kings Road Christmas Lights Switch On Event in partnership with Cadogan. As part of the event, a 200m section of Kings Road was closed to allow people to congregate for the switch on and to watch the fireworks. The closure also helped to accommodate a Christmas Market with 60 stalls, as well as performances by dancers and acrobats for families to enjoy. The event was a great success and attracted 75,000 visitors to the estate. Initial data indicated that there were good air quality improvements as a result of the road closure:
NO2 was reduced by 1%,
NO was reduced by 16%
NOx reduced by 9%.
You can read the whole thing here!
Social Media Campaigns 
Social media is a great tool to engage with the public around air pollution, and it can also be used to support important events and campaigns. As part of the HSE Programmes 2021 Car Free Day celebrations, Cross River Partnership ran a "countdown to Car Free Day" social media campaign. The campaign involved sharing facts related to Car Free Day and highlighting the different schemes the programme has delivered to help improve air quality. The campaign also involved a "School Mural Competition" where school pupils across London were encouraged to design a Car Free Day mural. We received 159 entries and three winners were then chosen at random for their design to be created as a mural at their respective schools.
Find out more here!
For further information, please contact CRP Project Manager Fiona Coull.