More Media Interest in the SEUL Project
19th October 2018 / Posted by CRP Team
Interest in our Smart Electric Urban Logistics (SEUL) project is no longer limited to the UK or even Europe but has now reached the United States! On 21 September, The New York Times published an article on project lead UPS replacing diesel delivery vans with electric ones and how the smart grid approach implemented as part of the project enables them to do so.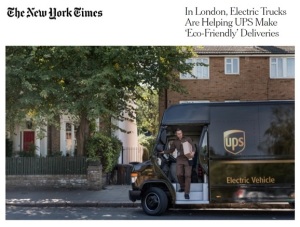 In addition, a UPS / Green Biz study has further identified motivators and barriers to fleet electrification. The study notes how public/private collaboration (in this case between UPS, CRP and UK Power Networks) can overcome these barriers.
For more information, please see the project webpage here or contact CRP's Programme Manager Electric Freight Tanja Dalle-Muenchmeyer.