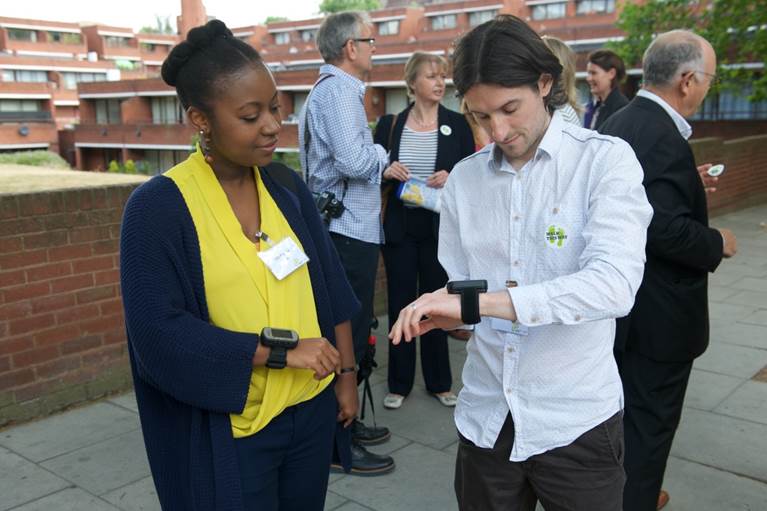 Monitoring Air Quality exposure on Urban Partner's Wellbeing Walk
27th August 2015 / Posted by CRP Team
The launch of the Urban Partners Wellbeing Walk provides pedestrians with a signposted safer, less polluted and calmer route between Euston and King's Cross.
Tens of thousands of pedestrians walk between the two stations each day along the Euston Road. Last year, the monitoring station on the road recorded an annual average of 104 ug/m3 with 220 breaches of the hourly limit value.  Diffusion tube monitoring on the wellbeing route carried out by Camden indicated a level of 35 ug/m3 on the route – around 65% lower than Euston Road.
On the morning of the launch, Uto Patrick from CRP's Clean Air Better Business programme and Andrew Grieve from King's College London walked from Euston to King's Cross along the two routes carrying micro-aethalometers which measure black carbon emissions.
The results demonstrated a marked difference between the two routes with the cumulative exposure on the wellbeing walk around 70% lower than Euston Road.
Fig 1 – graph showing 1 minute avg black carbon concentrations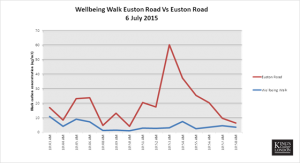 Fig 2 – graph showing cumulative black carbon concentrations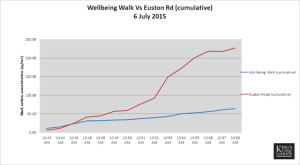 The facts show that the Wellbeing Walk reduces commuters' exposure to poor air quality by a significant amount. Urban Partners hope the Wellbeing Walk is a concept which will be replicated across the capital with business working alongside boroughs and local communities to revitalise areas and improve health and wellbeing for commuters and residents alike.