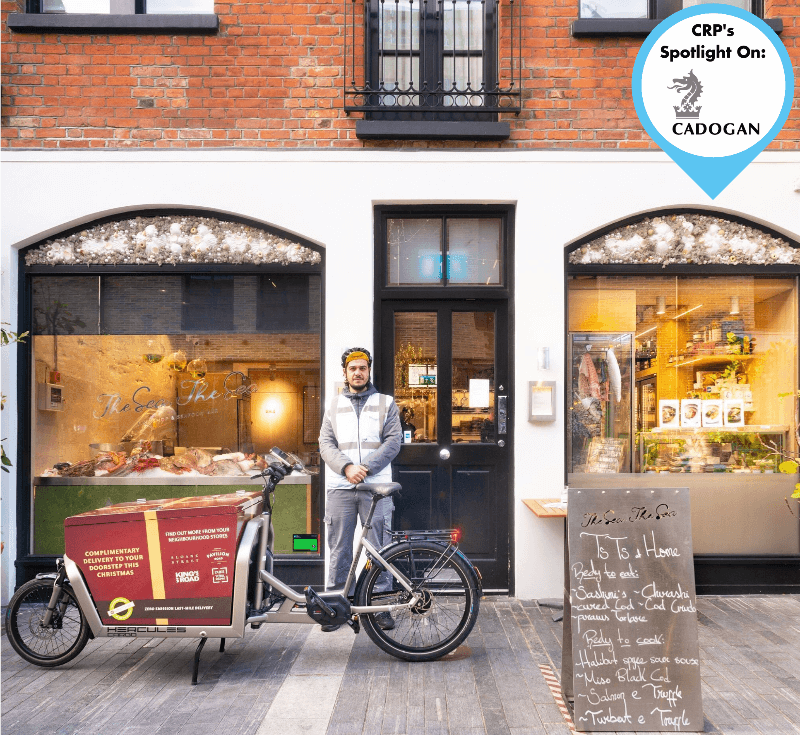 CRP's Spotlight On: Cadogan
8th December 2020 / Posted by CRP Team
This week, we are showcasing the work of CRP Partner Cadogan, a dynamic property manager, investor and developer with a 300-year family history. Hear what Sustainability Manager Kate Neale has to say about Pavilion Road's cargo bike scheme:
Earlier in the year, just weeks before the nation locked down for the first time, Cadogan and CRP together launched an e-cargo bike to support retailers on Pavilion Road, Chelsea. As part of CRP's Defra-funded Clean Air Villages 2 (CAV2) programme, this scheme was designed to provide a zero-emissions delivery facility to the road. Although it was planned pre-COVID, it turned out to be a hugely valuable resource over the subsequent months. The trial is part of Cadogan's wider sustainability strategy which aims to tackle air quality across the Estate. Cadogan and CRP's CAV2 cargo bike trial ended at the end of May, but Cadogan are relaunching the initiative to support retailers across Chelsea in December!
As Chelsea's 'village street', Pavilion Road offers local residents a butchers, bakery, cheesemonger, fishmonger and dry cleaners, amongst others. The e-cargo bike was invaluable in connecting local residents with these retailers, offering consolidated home deliveries from multiple stores. The trial was a great success, and as a result, the scheme saved 526kg CO2 per year, as well as 1.8kg NOx and 53g of PM2.5 per year – please see the CAV2 case study for more details.
Customers who live within a 3 mile radius can use the complimentary service to deliver items from any participating Chelsea store, helping protect the vulnerable, support retailers and reduce vehicle traffic. Contact Cadogan if you're a local resident and want to find out how to utilise the scheme, and improve your local air quality through zero-emission deliveries this Christmas!