CRP meeting with the HMT Infrastructure and Project Authority
26th February 2018 / Posted by CRP Team
The Autumn Budget included the intention to invest £200 million of Government money alongside the private sector into a £400 million Charging Infrastructure Investment Fund. On 20th February, CRP hosted a team from the HM Treasury Infrastructure and Project Authority (IPA) to talk electric freight vehicles, charging infrastructure and smart charging technology. The meeting included a site visit to the UPS central London depot to showcase our recent work in a business-as-usual environment. Many thanks to all for a very informative and useful exchange.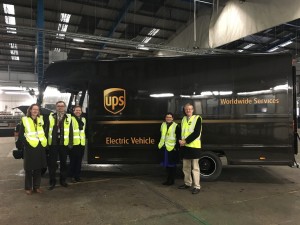 CRP's Smart Electric Urban Logistics project shows that smart charging is likely to be a key facilitator to the uptake of electric fleets. Still, some element of physical grid infrastructure upgrades will be needed for the foreseeable future and as of now it remains unclear how these are to be financed. CRP looks forward to working with its partners and stakeholders on addressing this important barrier to better air quality in London.
For more information, please contact CRP's Programme Manager Tanja Dalle-Muenchmeyer.