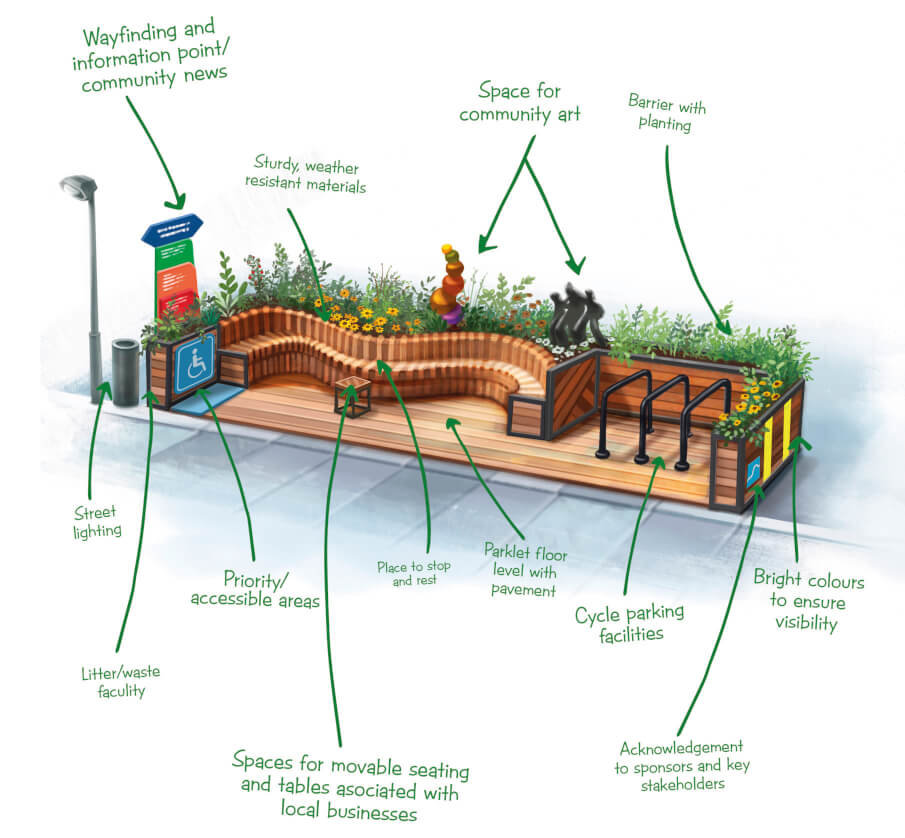 Creating Parklets for Community and Business Resilience
28th July 2020 / Posted by Ross Phillips
CRP's Creating Parklets for Community and Business Resilience is our recently-launched guidance document, as part of the Healthy Streets Everyday programme, to assist partners, local authorities, land owners, and everyone in between, on steps needed to design and implement successful parklets.
A parklet is a temporary pavement extension that sits in a parking bay(s). Parklets are flexible and temporary spaces that can provide extra outdoor space, which has become more important from COVID-19. But this resource attempts to take these learnings and provide guidance for parklets well-beyond COVID-19.
Research has shown that parklets and green spaces can:
Improve revenue and footfall for local businesses,
Improve mental health and wellbeing
Provide places to stop and rest, with shade and shelter
Encourage active travel
Reduce the effects of pollution through healthy greening.
Improve accessibility and safety
Businesses and communities should be an integral part of the design process, so it is important to engage with local artists, schools, gardening groups, businesses and communities. A parklet that is reflective of its community is likely to see more people using it, easier maintenance, and more likely to be successful. Most importantly, designing a parklet should be fun, so get creative and think outside the box!
To find out more, please contact CRP HSE Project Manager Fiona Coull,
fionacoull@crossriverpartnership.org