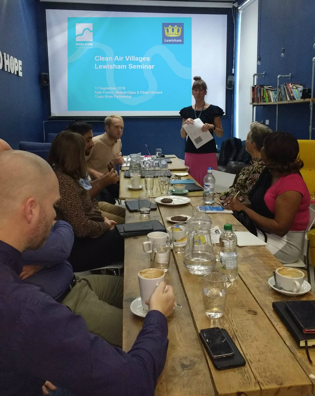 Clean Air Villages – Workshops Completed
10th December 2018 / Posted by CRP Team
The Clean Air Villages project continues and CRP are pleased to report that a total of 20 Air Quality seminars have been completed, 2 in each village. The seminars were an opportunity for local businesses to come and discuss local issues about deliveries and servicing and to find out about ways in which they could save time and money whilst also improving local air quality.  With business attendees ranging from sole traders to national chains, and with help from local Councillors, CRP has built up a picture of each local village and their individual issues.  CRP is in the process of meeting with each borough to brainstorm over the local recommendations which will be made and implemented within each village.  Meetings with Lambeth and Islington have already taken place.  Meetings with Hammersmith and Fulham, Kensington and Chelsea and Lewisham are due to take place in the coming weeks.
CRP are continuing with 121 business engagement across all five boroughs.  As we move into 2019, the village solutions will be put into action and CRP will be hard at work producing case studies.
For further information, please contact CRP's Business Engagement Officer, Kate Fenton.