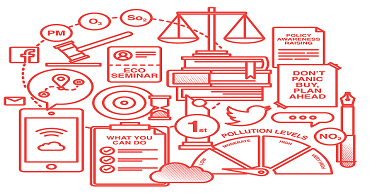 Clean Air Better Business media coverage
26th August 2015 / Posted by CRP Team
The emerging lessons from Cross River Partnership's Clean Air Better Business programme are generating interest from across the country.
As part of the recent launch of Urban Partners Wellbeing walk, CABB Air Quality Champion Uto Patrick and Andrew Grieve from King's College London monitored the two routes with the aim of quantifying the potential exposure of the original route versus the wellbeing route. The results from the monitoring exercise were published in the July edition of the King's College London newsletter. Urban Partners produced a video of the launch which can be viewed below.
Freight in the City supported the launch of the CABB toolkit as help for businesses and freight operators to assess and improve their impact on London's air quality through steps such as developing their own delivery and servicing plans.
Followers on the CABB Twitter account have doubled in the past quarter, pushing us close to our 100th follower. For engaging content, guidance, tips and links to further case studies on how you can act on air quality, follow the CABB programme at @CRP_CABB.