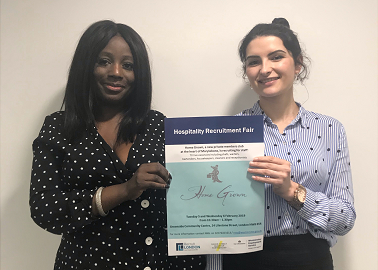 Baker Street Quarter Partnership – Recruitment Event
25th February 2019 / Posted by CRP Team
CRP's Recruit London Programme supported a recruitment fair on the 6th and 7th February 2019 for a new corporate members club opening this spring in the heart of Central London.
Baker Street Quarter Partnership (BSQP) introduced Recruit London to the Human Resources Manager at Home House, to see how Recruit London could support them to fill 70 roles. Recruit London's Specialist Workplace Coordinators responded by suggesting a recruitment fair where local Westminster residents would come face to face with the employer.
The 2 days were a great success. We had over 120 Westminster residents come through the doors for interview with 31 people successfully going on to the second stage interviews.
The Chief Executive of the Baker Street Quarter Partnership, Penny Alexander attended the fair on Wednesday 7th February and was impressed with the professional way in which the fair had been conducted, the quality of the candidates preparation by CRP's Recruit London team and the high calibre of the candidates that attended.
The Baker Street Quarter Partnership have introduced Recruit London to the Hyatt Hotel and the Chiltern Firehouse, who are both interested in Recruit London supporting their recruitment.
For further information on Recruit London please contact Sylvia Kankasa.