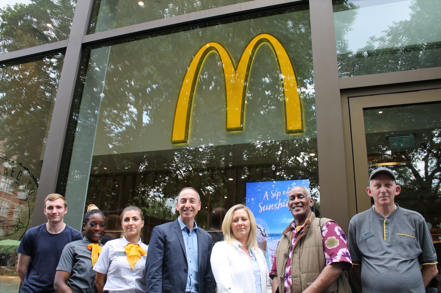 Capital Arches Group Opportunities
10th December 2018 / Posted by CRP Team
Capital Arches Group Ltd have strongly supported CRP's partnership Recruit London initiative by offering employment opportunities to many Westminster residents across all of their McDonald's Restaurants. We have organised regular recruitment open days which has enabled local job seekers to visit the restaurant and learn more about the local business. This gave the candidates the opportunity to improve their interview performance, boosted their confidence and enhanced their job prospects. Through our partnership we have been able to place over 33 people into employment with very good success stories. The employer is very accommodating to those with mental and physical disabilities and supports individuals to develop the key skills, sustain employment and progress further within their career. This has proven invaluable to us and those facing long-term unemployment. We look forward to continue working with Capital Arches Group Ltd in 2019.
Carolina Costa Kanwar, Head of Operations Support at Capital Arches Group Ltd:
"The recruitment service from Recruit London is fantastic and the team is always very helpful and supportive. Ilona has visited us a few times and she has a real understanding of our business and our hiring needs and has helped us to recruit a number of residents across many of our restaurants."
For further information please contact Recruit London's Ilona Wilk.