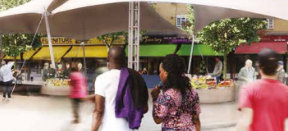 Urban Market Delivery and Servicing Plan project
16th December 2016 / Posted by CRP Team
The urban market delivery and servicing project is underway for the CRP-convened Central London Sub Regional Transport Partnership, with phase one stakeholder engagement and data collection nearing completion.
This project is a first of its kind and is engaging with Lower Marsh (Lambeth), East Street (Southwark), and Chapel Market (Islington) traders to look at consolidating vehicle movements and enhancing local operating environments. A key output of this study will be a best practice tool kit which Cross River Partnership will share with all central London boroughs and partners.
CRP's consultants PWLC have already identified potential opportunities to improve the market street space and operations which we look forward to sharing in 2017.