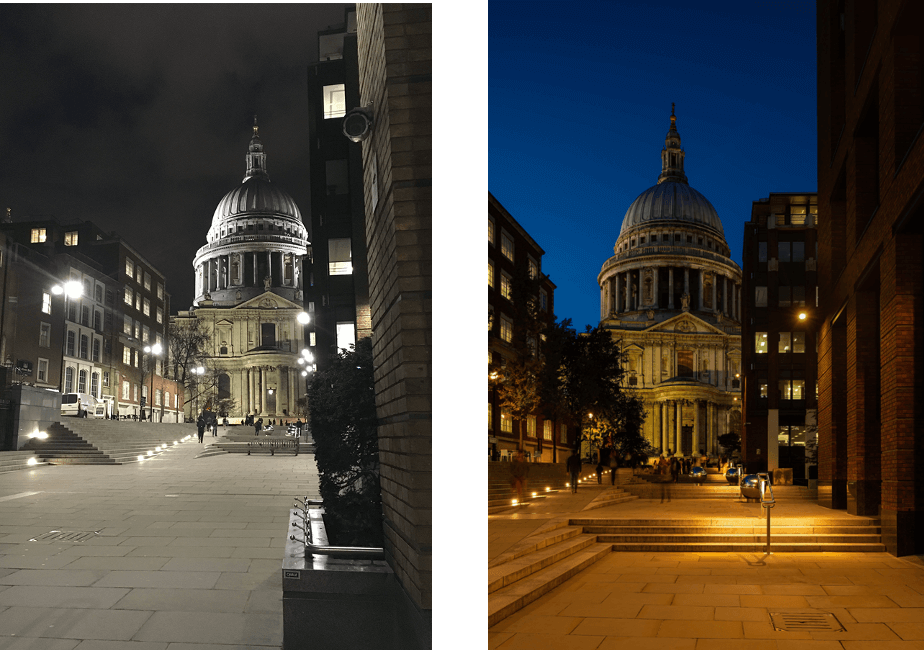 Showing London in a new light
21st September 2020 / Posted by Susannah Wilks
CRP is excited to support a new project – Lighting London – led by Centre for London, which will explore how councils, developers and landlords can make the capital's streets and public spaces more inviting and interesting at night, while reducing the city's carbon footprint.
The research will build on the Illuminated River project which is lighting up central London's Thames bridges in a new public artwork, the City of London's lighting strategy, as well as the recommendations from City Hall's Night-Time Commission. It will explore how light and darkness affect the lives of different groups of Londoners, how to use lighting more sustainably, and what it would take for London to become the best lit major city in the world.
This innovative research is funded by The Rothschild Foundation, Illuminated River Foundation and Greater London Authority, and is sponsored by City of London Corporation and Cross River Partnership.
For more information about the Lighting London project please visit the main project page here.
As London emerges from the coronavirus crisis, its public spaces are in the spotlight. Preventing the spread of the virus will mean spending more time outdoors when meeting others as we head into autumn. This is a chance to review how London is lit and to enhance its attractiveness, making it an even more enjoyable place to be.
Lighting is one of the most overlooked aspects of urban design. For the most part, city authorities have historically taken a narrowly utilitarian approach, looking to lighting to makes roads and streets brighter, but with little thought for creative or environmental dimensions of light. The same is true for our homes and workplaces: buildings are too often illuminated in isolation from each other or in competition to out-shine their neighbours.
The final report will be published in winter and will make recommendations to help City Hall, London's boroughs, developers and building owners to develop a stronger and more coordinated city-wide approach to lighting, and better light their buildings and spaces.
Ben Rogers, Founding Director of Centre for London said:
"Relatively little thought goes into the way London looks and feels at night. "Yet lighting has a huge impact on us, on our evening and night-time activities, on people who work at night, and even inside our homes from streetlights. With Londoners set to spend more time outside than ever as we head into autumn, now is an exciting opportunity to help policymakers develop a stronger and coordinated city-wide approach to lighting."
Sarah Gaventa, Director of the Illuminated River Foundation said:
"Whilst researching the high luminance levels and light pollution along the banks of the Thames for our own Illuminated River project we were struck by the lack of both information and a coordinated approach to sustainably lighting our city. We felt there was an opportunity to bring together those with responsibilities, expertise and interests in this area to look at how we might collaborate and share our learning to create a more attractive sustainable and safe nightscape for London and approached Centre for London to develop a project. I am delighted that the Greater London Authority, the City of London Corporation and the Cross River Partnership have joined us as partners in this new initiative."
Carolyn Dwyer, Director of the Built Environment at the City of London Corporation, said:
"The City of London Corporation is taking a number of steps to realise our vision of a 24/7 destination and we are delighted to be part of this revolutionary 'Lighting London' research. By exploring how all parties can work together to light our streets in a more sustainable way, we can further improve upon the safe, welcoming and accessible spaces that the Square Mile offers, while celebrating our rich heritage, culture and architecture around the clock. This opportunity aligns with our vision developed in the City Lighting Strategy to take advantage of emerging technology to enhance what it feels like to live, work and visit the City at night."
Ellie Stout, Head of Grants, The Rothschild Foundation said:
"The Rothschild Foundation is proud to be supporting the development of a coordinated city-wide approach to lighting which will consider design, economic vitality and, crucially, the environmental impact of lighting in the capital."
Susannah Wilks, Director of Cross River Partnership said:
"Cross River Partnership (CRP) is very pleased that 'Lighting London' sustainably will support our government, business and community partners to harness light (and dark) in addressing many of our urban challenges, together."