Recycle Week Competition Winners!
27th November 2017 / Posted by CRP Team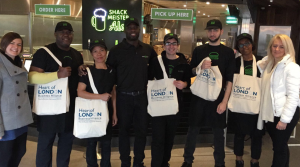 CRP partner Heart of London Business Alliance crowned Shake Shack in Leicester Square as winners of their Recycle Week competition. A big thank you to Shake Shack for taking part and pledging to recycle more food waste. By recycling more and producing less waste it also helps to reduce the number of vehicles on our roads needed to collect rubbish, therefore improving air quality in The West End. Heart of London were proud to give five goodie bags to hard-working staff with a selection of the team receiving a range of recycled materials, treats and keep-cups. Keep up the great work!
For further information please contact Christina Wells.