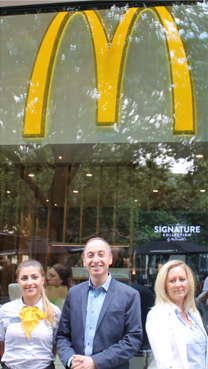 Recruit London – Case Study
12th November 2018 / Posted by CRP Team
Souziar has sustained her job with Capital Arches Group, a McDonald's franchise, after a continuous period of 26 weeks of employment.
Though the support of Ilona, based at Heart of London Business Alliance, Souziar secured employment with Capital Arches Group as a Crew Member.
Souziar has recently sustained 26 weeks of employment with Capital Arches Group and was promoted to the Customer Experience Leader position. She was also selected as the Employee of the Quarter for one of their four Supervisor Groups. Currently, she is developing her leadership skills through the management training programme with Capital Arches Group.
The Capital Arches Group Business Manager shared:
"Souziar has come a long way in a very short space of time, she has shown great confidence in her new role as a Customer Experience Leader and continues to learn more about how to make the customer experience better. Her positive attitude continues to draw more customers to engage with her. Souziar not only shows good teamwork but also good leadership, when given the opportunity. A mother of 3, she is very happy in her position in the restaurant, and she is taking full advantage of the flexibility that she hoped for. She has recently been selected for the management programme and together we planned out her training and set goals, and she has already attended some courses. She is very optimistic in her future and wants to make it big in her career opportunities, hoping to one day become a Business Manager of her own restaurant."
For further information please contact Recruit London's Ilona Wilk.