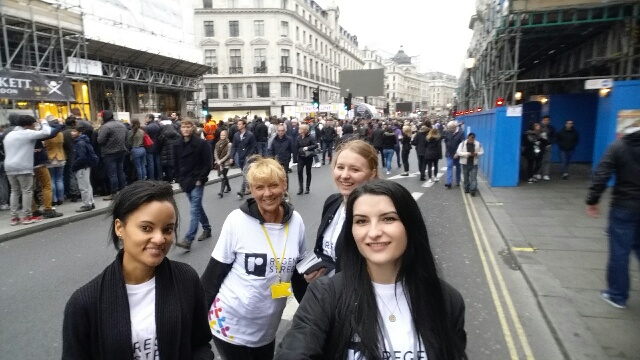 Recruit London candidates work at Gumball 3000!
26th May 2016 / Posted by CRP Team
CRP's Specialist Workplace Coordinator, who supports people with disabilities and chronic health conditions as part of the Recruit London initiative, recently worked with the  Regent Street Association to place 10 candidates as paid volunteers for the Gumball 3000 event. The Regent Street association needed 20 people with a background in customer service to be trained as staffers for the event, and the Recruit London Specialist Workplace Coordinator was able to refer 10 unemployed candidates to this opportunity, all of whom were selected.
Each year Gumball 3000 organises a luxury automotive rally in which 100 of the world's most spectacular supercars drive 3000 miles in seven days.  They host public and private events in each city they pass through. On May Day, Monday 2nd May 2016, Gumball 3000 returned to Regent Street and attracted well over 100,000 people.
Recruit London's candidates assisted on the set up and breakdown of information points, lifting and carrying benches and plants to position on the streets, cable tying benches together, installing event branding on barriers using cable ties and cable cutters, and leafleting from information points on and around Regent Street.  Mainly, they assisted with ensuring that visitors from all over the world were made to feel welcome, were on hand to deal with queries and helping with giving directions.
All candidates have increased confidence after the event. One candidate Daniela said "I really enjoyed myself yesterday at the Gumball 3000. It helped my confidence".  The Specialist Workplace Coordinator has continued to help them into work, and five now have interviews for paid opportunities!
Chrissie from the Regent Street Association said: "the referrals were great and all worked very hard (despite the rain)"!
Candidate Kiefer said: "I would not have known about it if I had not been asked to work.  It was such a good day. We worked really hard, but it didn't feel like work".
For more information, please contact: Sylvia-Makole Kankasa – Specialist Workplace Coordinator, 07931 546 865, skankasa@westminster.gov.uk
Pictured: Recruit London's Nikki Gjergji with candidates at the event