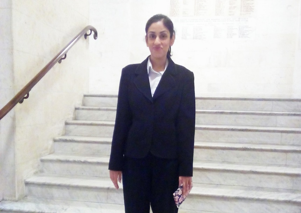 Recruit London Candidate Job Start
10th December 2018 / Posted by CRP Team
Nikoletta (Nikki) Gjergji, Recruit London's Specialist Workplace Coordinator, has been providing ongoing employment support to Westminster resident Meera since April. Meera has been unemployed due to health issues for over 2 years. With Nikki's support, Meera is now employed as a Ceremonies Usher at the Old Marylebone Town Hall.
Meera Main: "I have found Nikoletta to be very supportive. Nikki has been considerate of the fact that I have been out of work a long time and was determined to find me a nice job within a good establishment where I can build on my confidence, grow, develop and learn.
With Nikki's support, I have secured a job in a lovely environment with exceptionally wonderful people. I am enjoying every minute of my new job and the experiences I am having.
I would most definitely recommend the service Nikki provides to all my friends and family!"
Rocky Akbar, Senior Usher: "Meera is an eager, enthusiastic young woman. She is great at communicating face to face and more Impressively via the walkie talkies we use – many people are intimidated by those but Meera has taken to them like a duck to water! She is shy but I can see every time I work with her she is growing in confidence. She listens and is eager to learn more. Thank you to Nikki – Recruit London for your support!"
For more information about the Recruit London programme or to make a referral, please contact Specialist Workplace Coordinator Nikoletta Gjergji.