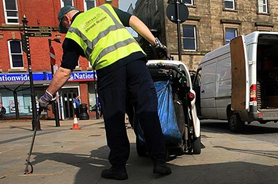 Recruit London and Veolia
12th December 2017 / Posted by CRP Team
Veolia has been working closely with Recruit London with the commitment to raise the percentage of Westminster residents working for Veolia in the borough of Westminster. At the moment, this figure stands at 22%.
Historically, Recruit London has recruited for Veolia Street Cleaners and we have set up ongoing recruitment for street cleaners every 6 weeks, with a focus on getting street homeless candidates from The Connection into employment.  On our last recruitment round, we recruited 9 street cleaners.
Recruit London is now supporting Veolia with recruiting across their different departments, with roles to include Commercial Waste Management Customer Service personnel, re-cycling operatives and HGV drivers.
We will be supporting the recruitment of 3 Apprentices and as well as another round of recruitment for Street Cleaners on 18th December 2017.
Veolia has committed to creating 20 roles from now to March 2018.
"It's a pleasure to work and partner with Recruit London. They have an excellent understanding of business recruitment needs and provide invaluable support to recruit locally and help candidates succeed in their position. I highly recommend Recruit London if you're looking to reduce staff turnover, increase diversity and tackle unemployment." Helder Branco, Senior Contract Manager – Westminster City Council
For further information please contact CRP's Sylvia Kankasa.