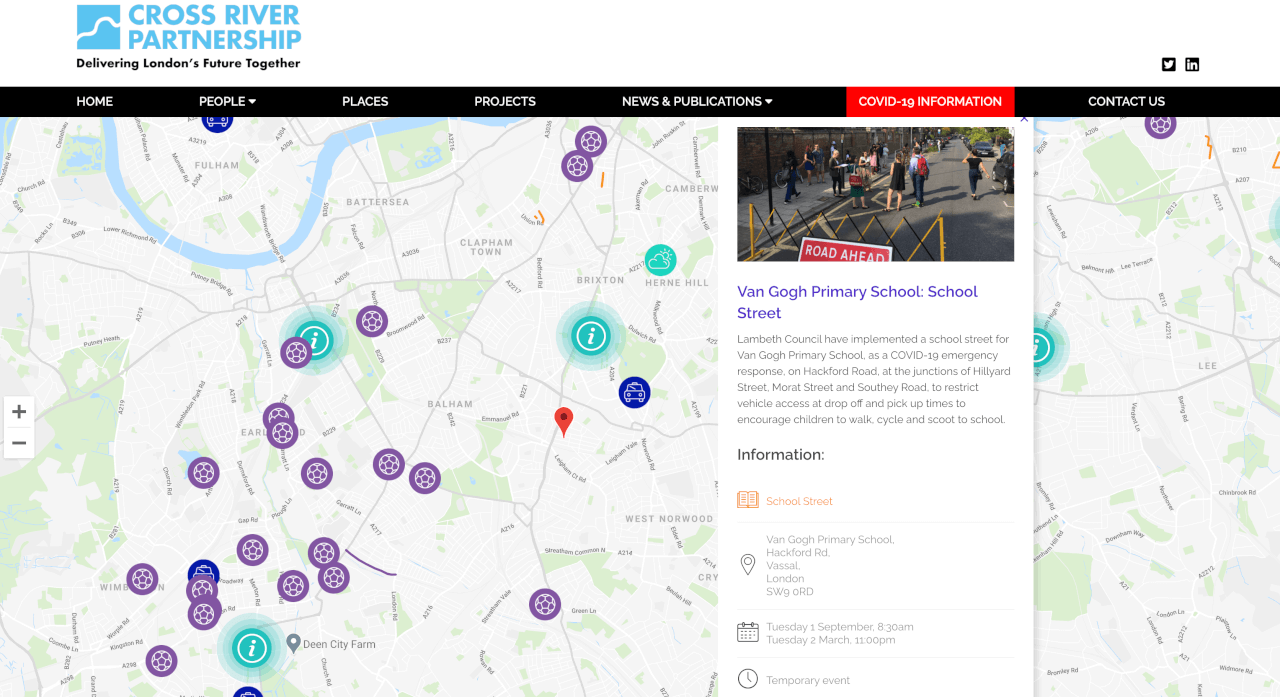 New CRP Healthy Streets Everyday Website Launched!
6th October 2020 / Posted by CRP Team
We are very excited to announce the launch of our new CRP Healthy Streets Everyday (HSE) website, featuring an interactive map showing initiatives across all HSE partner boroughs, BIDs and landowner locations. Users can search for specific School Streets, Parklets, Play Streets, Low Emission Neighbourhoods, Streetscape improvements and more! In addition, we've made it easy for users to find out who to contact to set up their own School Streets or Play Streets. Simply scroll to the 'Your Questioned Answered' section, input a postcode and you're on your way.
Users also have the option to share their own Healthy Streets initiatives to be uploaded to the interactive map – a handy form is available on all location pages as well as the home page. Conveniently, the latest Healthy Streets Stories are now all in one place. Click a location to see the latest updates on projects making London's streets safer and more pleasant places to be. Check out the website and let us know what you think! We'd love to hear your feedback.
The new webpage will home all of HSE's present and upcoming guidance documents and case studies, as well as useful resources from other organisations that facilitate Healthy Streets across London and beyond. Now more than ever, Healthy Streets are vital to support community's COVID-19 responses by enabling walking and cycling, improving air quality, and in turn reducing the risk of vulnerable people developing underlying health conditions that put them at higher risk of having more severe symptoms from COVID-19.
For more information about the new webpages and the CRP Healthy Streets Everyday programme more broadly, please contact CRP HSE Project Manager Fiona Coull.