Mid-term reflections on Freight TAILS
26th June 2017 / Posted by CRP Team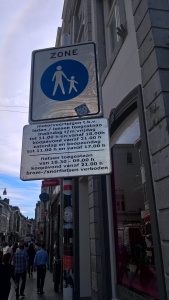 Freight TAILS, CRP's network of 10 European cities focused on improving the impact of urban freight transport, is currently reflecting on its successes and its opportunities for development.
We have been very pleased to engage many London stakeholders in this network to date from across many local authorities and BIDS.  This includes Transport for London's Freight and Fleet Communications and Engagement Manager, Tim Ward; who said of his recent attendance at a Freight TAILS network meeting:
"It was good to meet colleagues from across the EU and hear how they are finding ways of reducing the impacts of freight on their cities and communities. It was also interesting to see how Maastricht Bereikbaar is building freight into their plans to make the City more sustainable."
Last week we attended a meeting of all 20 projects co-funded by ERDF through the URBACT III programme in Paris.   Cross River Partnership was pleased to have been asked to share our good practice in both our project management and capacity building activities at this meeting.
For more details please contact CRP Project Manager Charlotte Knell.