London Plan Event
1st February 2018 / Posted by CRP Team
On 24th January 2018, CRP hosted a Draft London Plan consultation event together with the Association of Town and City Management (ATCM), kindly hosted by Team London Bridge.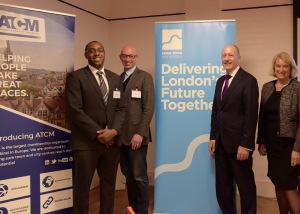 The Mayor of London, Sadiq Khan, released the new draft London Plan in late 2017. The draft sets out an integrated economic, environmental, transport and social framework for the development of London to 2041 to deliver the Mayor's vision for good growth. The well-attended consultation event gave Business Improvement District (BID) partners and Local Authority members the opportunity to discuss the draft and to feed into a joint CRP/ATCM response.
Speakers included (from left): Ojay MacDonald from the ATCM;  CRP Co-Chair Simon Pitkeathley from Camden Town Unlimited and Euston Town; Deputy Mayor Jules Pipe; and CRP Co-Chair Councillor Wendy Hyde from the City of London Corporation.
CRP welcomes comments on the draft London Plan until 2nd February and will share a draft consultation response with its partners prior to the final submission due by 2nd March 2018. For further information, please contact CRP Director Susannah Wilks.