London Borough of Culture
19th July 2017 / Posted by CRP Team
CRP was delighted to attend the press launch of the London Borough of Culture on 30th June 2017, hosted by Sadiq Khan, Mayor of London; Justine Simmons, Deputy Mayor for Culture and the Creative Industries; and Catherine McGuiness, Chairman, City of London Corporation.
The London Borough of Culture will highlight how culture can bring communities closer together and shine a spotlight on the distinctive character of each winning borough, giving Londoners a host of ambitious cultural events.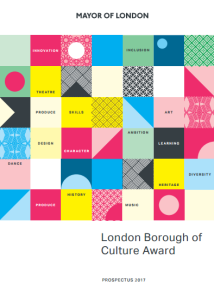 The competition is open to every one of the 32 boroughs in Greater London.  Two winning boroughs will be named London Borough of Culture, one in 2019, one in 2020.  Each winning borough will be awarded up to £1 million by the GLA.
Closing date 12 noon on 1st December 2017.
CRP would like to wish all of its boroughs the very best of luck with their applications!
Find out more at www.london.gov.uk/boroughofculture.