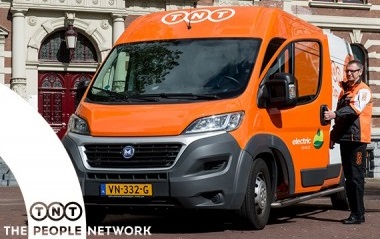 FREVUE success in the Netherlands
25th June 2015 / Posted by CRP Team

TNT has just announced the deployment of seven new 3.5 tonne electric express delivery vehicles for its operations in and around Amsterdam and Rotterdam, The Netherlands, as a partner of Cross River Partnership's FREVUE (Freight Electric Vehicles in Urban Europe) project, an urban e-mobility project supported by the European Commission. FREVUE seeks to demonstrate to industry, consumers and policy makers how electric vehicles can meet the growing need for sustainable urban logistics.
TNT's new e-Ducato vehicles purchased from BD Auto replace the standard diesel vehicles previously operating in Rotterdam and Amsterdam and will enable to save 24,000 litres of diesel and 76 tonnes of CO2 equivalent emissions each year. They provide a range of 200 km and a loading volume of 13m3.
Erik Uljee, Managing Director, TNT Benelux, said: "The partnership with FREVUE is part of TNT's corporate responsibility agenda and meets the objective of our Outlook strategy to increase efficiency and productivity. To support zero emission transport in city centres, the authorities extend certain privileges to TNT such as exemptions from parking bans and access to closed areas outside loading and unloading times. With the three vehicles in Rotterdam and four in Amsterdam, TNT's electric fleet in the Netherlands is nine in total."
Pex Langenberg, Vice Mayor of the City of Rotterdam, said: "It is the ambition of the City of Rotterdam to have a zero emission freight transport in the inner city by 2020. This is formalised in the Green Deal Zero Emission. We welcome the new electric freight vehicles as they will help to make the air in the city centre cleaner and decrease noise pollution."
The city of Amsterdam welcomes the emission-free TNT trucks in line with its plans to step up improvements in sustainability as outlined in the Sustainability Agenda Amsterdam (www.amsterdam.nl/duurzaam). According to these plans, in 2020 renewable energy generation in the city will be increased by 20% while energy consumption will be reduced by 20%. The city encourages electric mobility and plans to expand the low emission zone for delivery vans to further improve air quality and health of its citizens.
http://www.tnt.com/corporate/en/data/press/2015/06/tnt-introduces-electric-express-delivery-vehicles-in-amsterdam-and-rotterdam.html
http://www.logisticsmanager.com/2015/06/tnt-picks-electric-vans-for-dutch-cities/