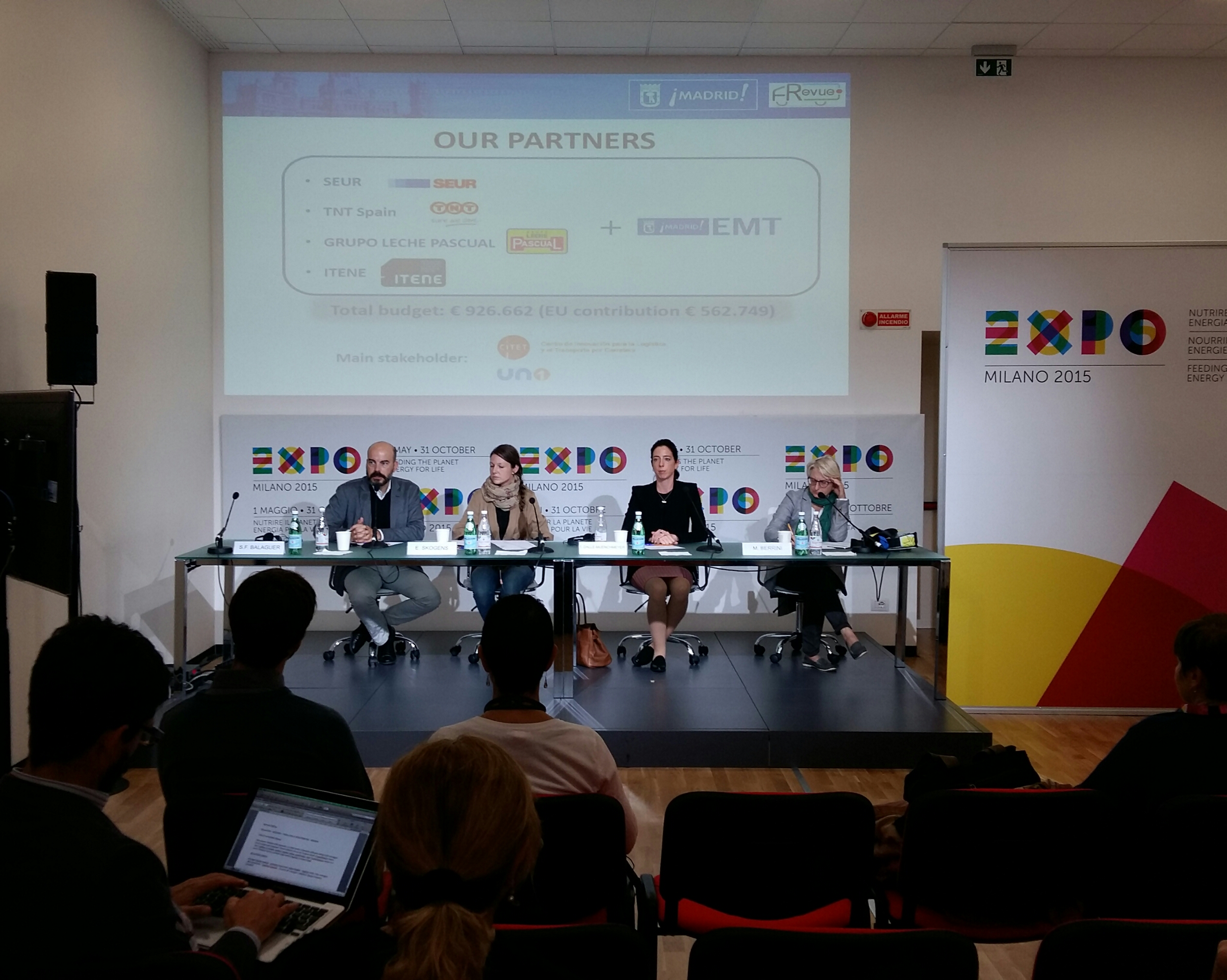 FREVUE presented at the EXPO Milan
21st October 2015 / Posted by CRP Team
The FREVUE six-monthly partner meeting was held in Milan on 1-2 October 2015 and concluded with a press conference at the EXPO 2015 "Feeding the Planet, Energy for Life".
The newly appointed project co-ordinator, Tanja Dalle-Muenchmeyer (Cross River Partnership) and representatives from Milan, Madrid and Stockholm introduced the project and some of its freight electric vehicle demonstrations to the journalists.
European cities continue to grow, and traffic generated by the logistics sector grows too, causing pollution and noise, explained Tanja Dalle-Muenchmeyer. The FREVUE project aims to show that  combined with the implementation of urban consolidation centres, clean and quiet electric freight vehicles are viable alternatives to conventional diesel ones.
Electric and smart logistics in Madrid and Stockholm
"Madrid is a lively city, and delivery of food products to all of its bars, restaurants and stores has become a complicated activity," explained Sergio Balaguer. "With the FREVUE project, we have created a large logistical center and we have involved the main actors in food delivery, in particular the food group Calidad Pascual and logistics companies SEUR and TNT."
"Stockholm has a complicated layout, because it covers fourteen islands linked by fifty-four bridges, and these require a great effort, logistically speaking," Elin Skogens continued. "With FREVUE, in addition to the consolidation center and the electric vehicles, we have reduced delivery traffic thanks to inverse logistics, meaning the recovery of returns related to the product deliveries."
Pharmaceutical deliveries with electric vehicles in Milan
"Because of the nature of their activities, pharmacies require many daily deliveries, up to five per day," explained Maria Berrini. "In the scope of FREVUE we are concentrating for now on downtown pharmacies around Area C (Milan's low emission zone). We have achieved collaboration with all the players involved, meaning associations in the category of pharmaceutical couriers Confcommercio and Eurodifarm, who have made their warehouses available".
To read the article on the EXPO 2015 website, please see here.
The FREVUE (Freight Electric Vehicles in Urban Europe) project is an urban e-mobility project supported by the European Commission. For questions or comments, please contact the FREVUE Co-ordinator, Tanja Dalle-Muenchmeyer, on tdmuenchmeyer@westminster.co.uk