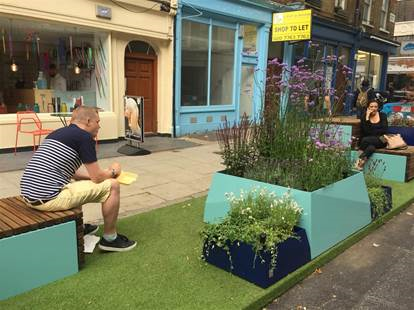 #FitzPark is on the ground
18th July 2017 / Posted by CRP Team
FitzPark located on Windmill Street in Fitzrovia is a temporary space which transforms a delivery bay into a 'parklet' containing seating and planters for public use.
The pop-up demonstrates how small spaces can be adapted to provide people friendly uses, promoting health and wellbeing through encouraging people to walk, cycle and spend more time outdoors.
The parklet aims to raise awareness about the benefits of urban greening and small scale and temporary public space improvements, which will hopefully inspire positive action towards creating healthy streets.
The project was delivered by The Fitzrova Partnership BID with support from LB Camden and Cross River Partnership, and funding through the Mayor's Air Quality Fund.
To find out more get in touch with CRP's Place Making Project Officer, Jane Overington janeoverington@crossriverpartnership.org