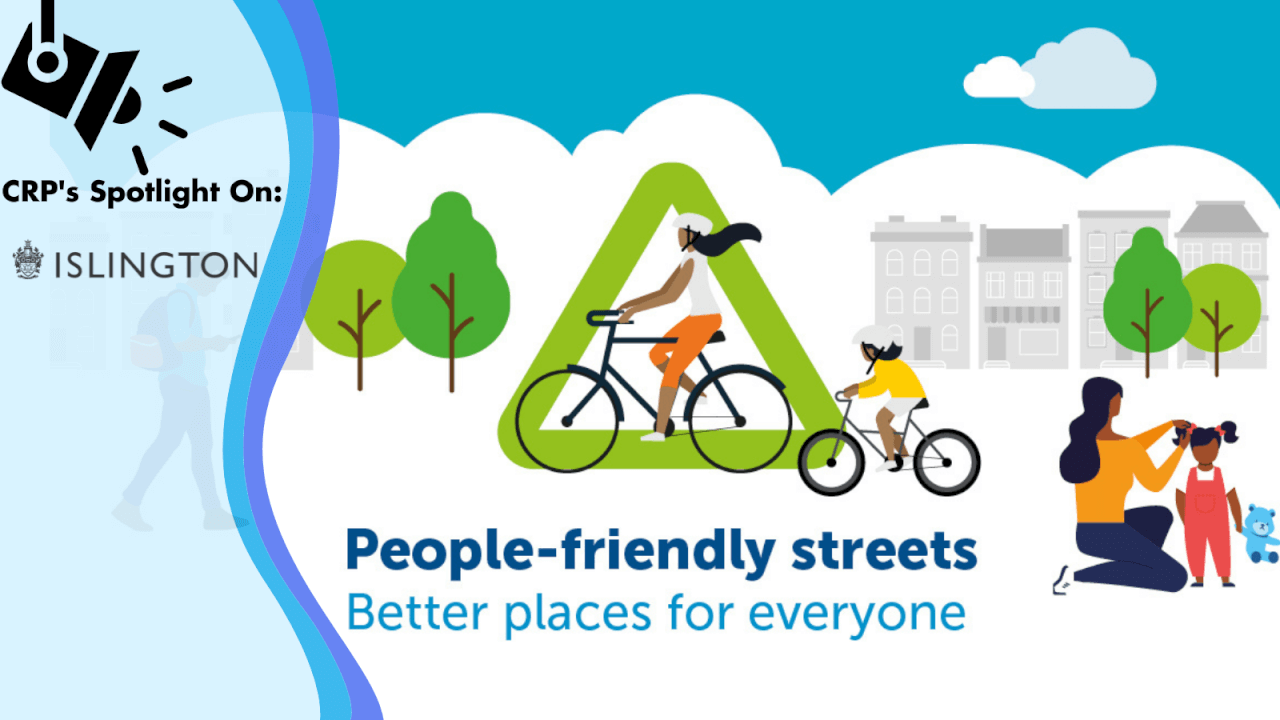 CRP's Spotlight On: London Borough of Islington
28th September 2021 / Posted by CRP Team
At Islington Council, we are working towards creating a cleaner, greener and healthier borough. The pandemic has highlighted just how important our local streets are to local people. We know it is important to take action now to improve our local environment, and meet the commitments in our Vision 2030 (Net Zero Carbon) Strategy to help tackle the climate emergency.
Over the past year, we have introduced and expanded several initiatives to improve air quality, create safer and more pleasant streets, and provide a healthier environment that encourages people to walk, cycle and use active travel where possible.
Through our people-friendly streets scheme we have introduced trial low-traffic neighbourhoods which stop through traffic taking short cuts on local roads, reducing traffic pollution and creating safer streets for people to walk, cycle, scoot and use buggies and wheelchairs. Our School Streets scheme reduces traffic at school gates, so children can breathe cleaner air, and making it easier and safer to walk, cycle and scoot to and from school.
We are also working to expand our cycle infrastructure and build a network of protected cycle routes. We created three new trial pop-up cycle lanes between July 2020 and April 2021 and are offering free cycle skills sessions to adults, children and schools through our Bikeability scheme. We are also offering local businesses a free one-month cargo bike trial. The bikes can be used for eco-friendly deliveries helping to reduce our carbon emissions. Find out more!
Islington has partnered with CRP on several programmes and most recently on Clean Air Villages 4 (CAV4) and Healthy Streets Everyday. While partnering with Angel Business Improvement District, we will be working with businesses and residents to deliver innovative solutions in Angel area and help Islington to reach net zero carbon targets.