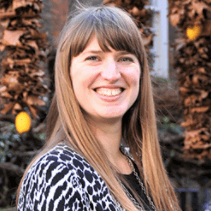 CRP's Spotlight On: Kate Fenton
16th March 2021 / Posted by CRP Team
This week we are featuring CRP's Project Manager Kate Fenton, who is leading on CRP's Clean Air Villages programme.
What I love about working for CRP is that no two days are the same. I also have the pleasure of working with a passionate and dynamic team. As CAV Project Manager, my role is to oversee the delivery of this cross-borough air quality programme.  This involves building positive working relationships with the funder and project partners, mobilising the team and ensuring targets are hit; all with the bottom line of improving air quality. Here is a sample of what my day looks like:
Firstly I check emails and Teams messages, then attend a brief internal meeting to agree on content for the promotion of our Clean Air Routes. I then meet with a colleague to brainstorm ideas on how to run a meeting with three major museums who we conducted a deliveries audit with. After lunch I attend an active travel webinar and provide a short presentation about the CAV project.  Next, I examine a draft of a case study we are working on and provide feedback. I then work on some costings for a piece of work that one of CRP's members would like us to deliver next financial year. I have another meeting, this time with one of our project partners, to provide an update and ensure they are happy with progress. I then catch up with one of the members of the team to come up with ideas to further recruit organisations to use cargo bike schemes that we are managing. In and amongst this I do my best to keep on top of emails and find time to make a few cups of tea!