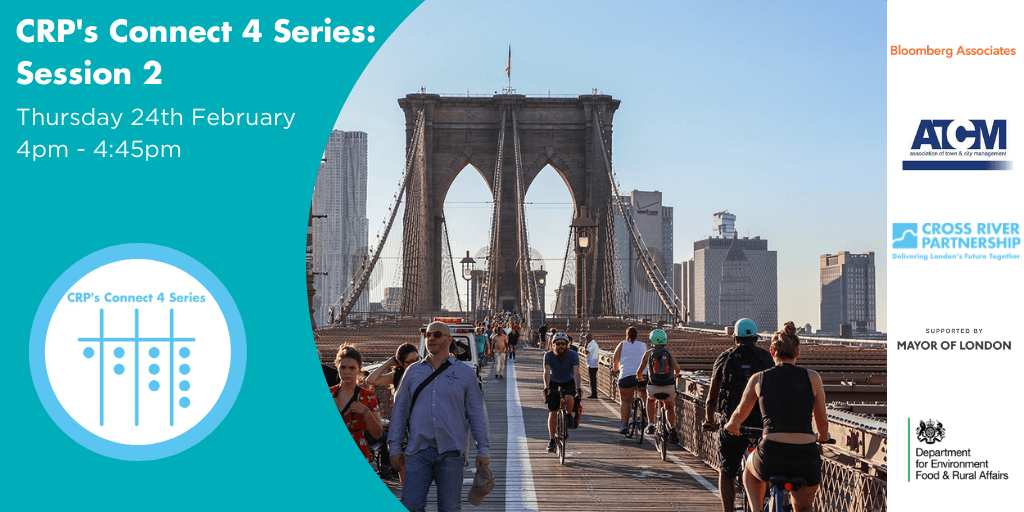 CRP's Next Online Event
21st February 2022 / Posted by CRP Team
Join Cross River Partnership for the second session of CRP's Connect 4 Series, Thursday 24th February 2022, 4pm – 4:45pm.
Register here!
COVID-19 has sparked a reimagining of places and spaces across the world, and this session will explore the urban response to the pandemic. This interactive session will feature presentations from expert speakers on the pandemic and cities. CRP Sustainable Transport Manager Ross Phillips will be launching the Healthy Streets Everyday 'Global Streetscape Responses to COVID-19' guidance document. This explores the responses of seven cities around the world and the streetscape transformation schemes implemented, examining challenges, funding, outcomes and future strategies.
Gordon Innes, Bloomberg Associates, will be presenting on the impact of tourism on the function and fabric of cities and urban areas globally. Also speaking will be Ojay McDonald, Chief Executive, Association of Town and City Management, who will be presenting on the pandemic from a High Street perspective, including the challenges faced during the past couple of years and adaptations made by businesses across the UK.
For more information, please contact CRP Communications Project Manager Rachael Aldridge.