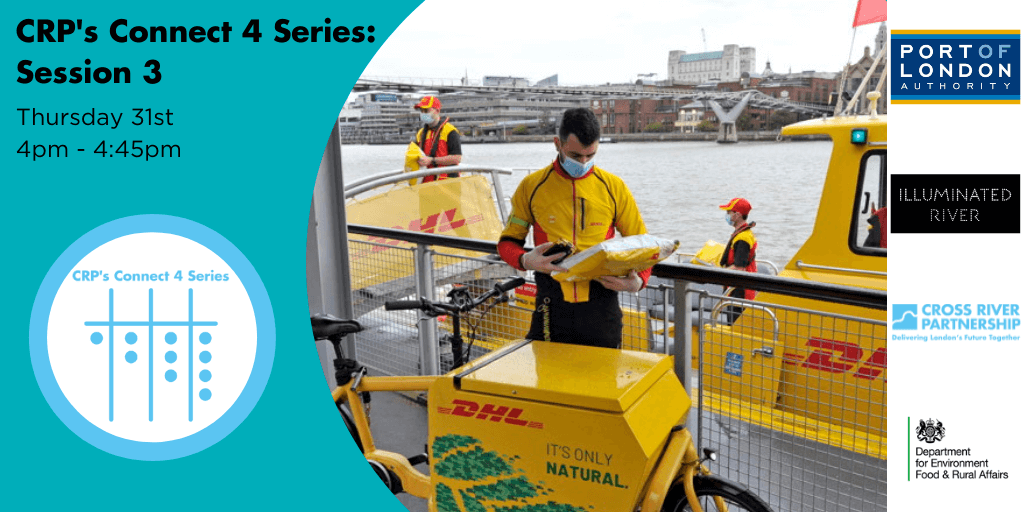 CRP's Next Online Event
26th April 2022 / Posted by CRP Team
CRP's next session in the Connect 4 Series will take place on Thursday 28th April 2022, 4pm – 4:45pm. This interactive session will feature presentations from expert speakers on how the Thames can contribute to a more sustainable London.
Register for Sustainable Cities: Reinventing the River
Alistair Gale, Director of Corporate Affairs, Strategy & Thames Vision at the Port of London Authority (PLA) will be presenting on The Thames Vision 2050 and consultation. Also speaking will be Ciron Edwards, The Illuminated River, presenting on the challenge of lighting nine of Central London's great bridges, and helped prompt debate on the use of light in the night-time environment.
Dave Ebbrell, CRP Project Officer, will be introducing three new CRP river freight studies, including 'Getting Started with River Freight: A Guide for Businesses', a Clean Air Villages 4 toolkit for those who are considering using the tidal Thames for the transportation of cargo, 'River Freight Monitoring: Butler's Wharf and Dartford Pier' and 'Light Freight: Design Solutions for Thames Freight Infrastructure'.
For more information, please contact CRP Communications Project Manager Rachael Aldridge.