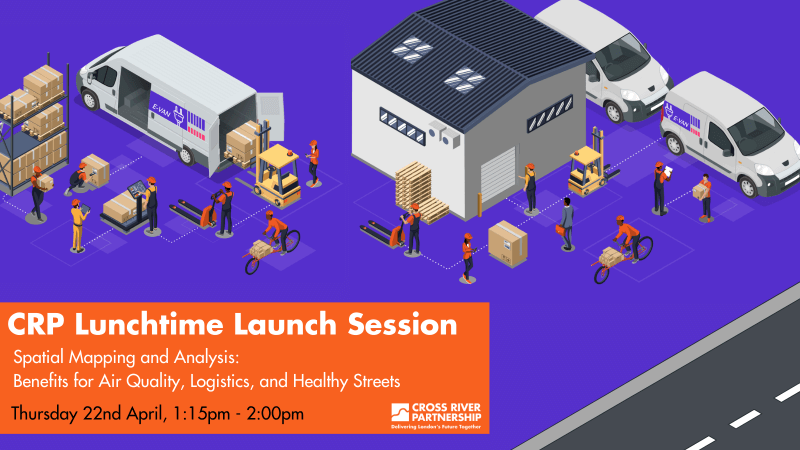 CRP's Next Lunchtime Launch Spatial Mapping: Benefits for Air Quality, Logistics and Healthy Streets
27th April 2021 / Posted by CRP Team
Join us from 1:15pm – 2:00pm, Thursday 20th May, to discuss the future of urban air quality interventions. Sign up here!
For CRP's fifth Lunchtime Launch event, we are excited to launch our new Urban Logistics Hub Webpage – an interactive mapping tool, developed as a result of our recently published 'The Potential for Urban Logistics Hubs in Central London' study. This new tool will increase the number of sustainable last-mile deliveries in Central London, in turn reducing air pollution, congestion and carbon emissions, by supporting freight logistics companies who are actively searching to occupy a location, and supporting owners of sites looking to advertise their spaces to prospective freight companies.
We will also be joined by Dr Rachel Aldred, University of Westminster, to discuss how spatial mapping and analysis can help identify equity and distributional issues related to neighbourhood interventions. Her recent research involves analysis of Low Traffic Neighbourhoods in London in relation to neighbourhood and population characteristics, including age, disability, ethnicity, deprivation, and car ownership, based on Output Areas of several hundred residents. The research highlights how London-wide impacts may mask wide diversity by borough, and the need to monitor such distributions at borough as well as city-level.
If you missed our most recent Lunchtime Launch, 'Earth Day: Successful and Sustainable Development in London' with Midtown BID and The Northbank BID, please see the full recording here, slides here and questions to some of the answers raised here.
For further information about CRP's ongoing Lunchtime Launch programme, please contact CRP Project Officer Rachael Aldridge.