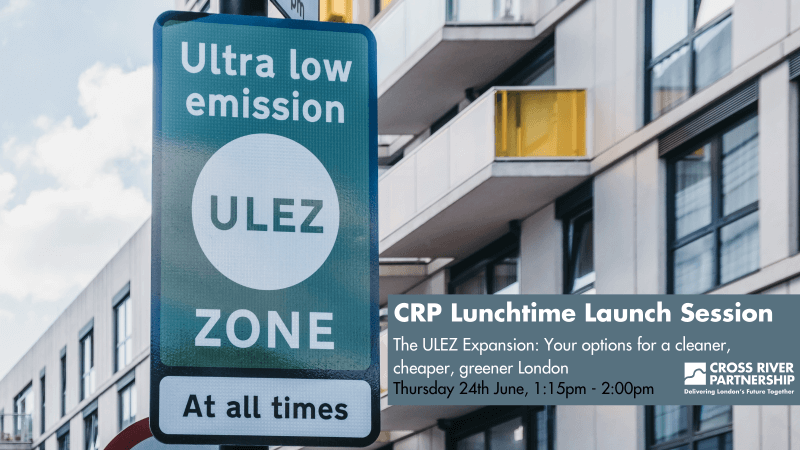 CRP's Next Event: Lunchtime Launch 6
15th June 2021 / Posted by Susannah Wilks
Sign up for CRP's next Lunchtime Launch event: 'The ULEZ Expansion: Your options for a cleaner, cheaper, greener London', Thursday 24th June, 1:15pm – 2pm!
Expert speakers from the Greater London Authority (GLA) will be presenting on how clean air and business have a crucial role to play in London's sustainable recovery from the pandemic, including which resources are available to help prepare and plan for the Mayor of London's Ultra Low Emission Zone (ULEZ) expansion in October 2021.
To complement this, CRP is excited to be launching a new package of comprehensive resources and guidance to support local businesses and residents in preparing for the ULEZ expansion. We will also be demonstrating CRP's new Clean Air Tool, which gives vehicle drivers the chance to not only calculate their emissions (CO2, NOx and PM2.5), but also clearly see examples of how switching to an electric vehicle, bike, and walking can equate to positive impacts on human health, the environment and the economy. This has been developed as part of the recently launched Defra-funded Clean Air Villages 4 (CAV4) programme.
Air pollution in London remains the biggest environmental risk to the health of all Londoners, with traffic emissions being the largest source. This is not just a central London problem. Many areas across the city still exceed the legal limits for pollution.
If you missed CRP's previous Lunchtime Launch all about our new, interactive Urban Logistics Hubs webpage, watch the recording of the session.
If you are a Local Authority in London and you would like to advertise potential Urban Logistics sites, please get in touch with CRP Senior Project Officer Laura Jacklin or Project Officer Ross Phillips. Similarly, if you are a Logistics Provider looking for sites, please get in touch!
For more information about CRP's Lunchtime Launches, please contact CRP Project Officer Rachael Aldridge or CRP Director Susannah Wilks.