CRP's FREVUE and EMOSS
19th January 2016 / Posted by CRP Team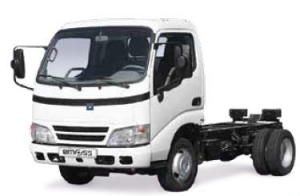 The CRP FREVUE project team has initiated discussions with the truck manufacturer EMOSS to explore how their expertise in electric mobility could contribute to the project. With 62 electric trucks driving across Europe, including the UK, EMOSS is one of the very few providers of currently available fully electric trucks of up to 65 tonnes.
EMOSS is already involved in FREVUE in their role of vehicle supplier of the 18 tonne Heineken trucks in Rotterdam. As this category of large electric freight vehicles of above 7.5 tonnes is currently underrepresented in the project, data from additional EMOSS trucks could provide very valuable information.
Based in The Netherlands, EMOSS is a company with 25 employees in R&D, production and sales. They supply electric buses and trucks and manufacture electric drivetrains, charging infrastructure and battery systems. In addition, EMOSS offer software development.
The FREVUE (Freight Electric Vehicles in Urban Europe) project is an urban e-mobility project supported by the European Commission.
For questions or comments, please contact the FREVUE Co-ordinator, Tanja Dalle-Muenchmeyer, on tdmuenchmeyer@westminster.co.uk